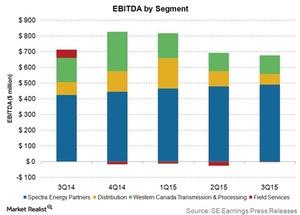 Low Commodity Prices, Weak Canadian Dollar Drag SE's Earnings
Spectra Energy's segments
Spectra Energy (SE) carries out its operations through four reportable segments:
Spectra Energy Partners (SEP)
Distribution
Western Canada Transmission and Processing
Field Services
SEP contributed 73% of SE's 3Q15 EBITDA (earnings before interest, tax, depreciation, and amortization). Spectra Energy owns 80% equity interest in SEP. Spectra Energy forms ~1.7% of the Energy Select Sector SPDR ETF (XLE).
As the above graph shows, the contribution of SEP to SE's EBITDA has risen from ~60% as of 1Q15 to ~70% in the second and third quarters of 2015. The increased percentage contribution resulted from a simultaneous growth in SEP's EBITDA, and a combined fall in the other three segments' EBITDAs.
SEP's EBITDA growth is primarily contributed to by the expansion projects that were placed into service in its natural gas transmission business in 2014. These projects are TEAM 2014 and TEAM South.
SEP also started operations in a few more projects in 3Q15. Higher transportation revenues due to higher tariff rates and volumes on SEP's Express Pipeline also contributed to its EBITDA growth over the last two quarters.
Article continues below advertisement
Spectra Energy's Distribution segment
The fall in SE's Distribution segment's EBITDA can be almost exclusively attributed to a weaker Canadian dollar. The segment provides distribution services in Canada through the subsidiary Union Gas Limited.
Western Canada Transmission and Processing segment
The fall in the Western Canada Transmission and Processing segment's EBITDA can also be primarily attributed to a weak Canadian dollar. Lower commodity prices have also impacted the segment's NGL (natural gas liquids) operations in Empress, Alberta.
Spectra Energy's Field Services segment
SE's Field Services segment consists of its 50% investment in DCP Midstream, which owns 22% interest in DCP Midstream Partners (DPM). Phillips 66 (PSX) owns the other 50% interest in DCP Midstream. DCP Midstream gathers, compresses, processes, transports, stores, and sells natural gas. The fall in the segment's EBITDA is primarily attributable to continued low commodity prices and low gains on DPM unit issuances.
Both Spectra Energy and PSX are working to strengthen DCP Midstream's cash flows. One such initiative was taken in October 2015, when SE and PSX agreed to contribute interests in SE's Sand Hills and Southern Hills pipelines and $1.5 billion in cash, respectively, to DCP Midstream.