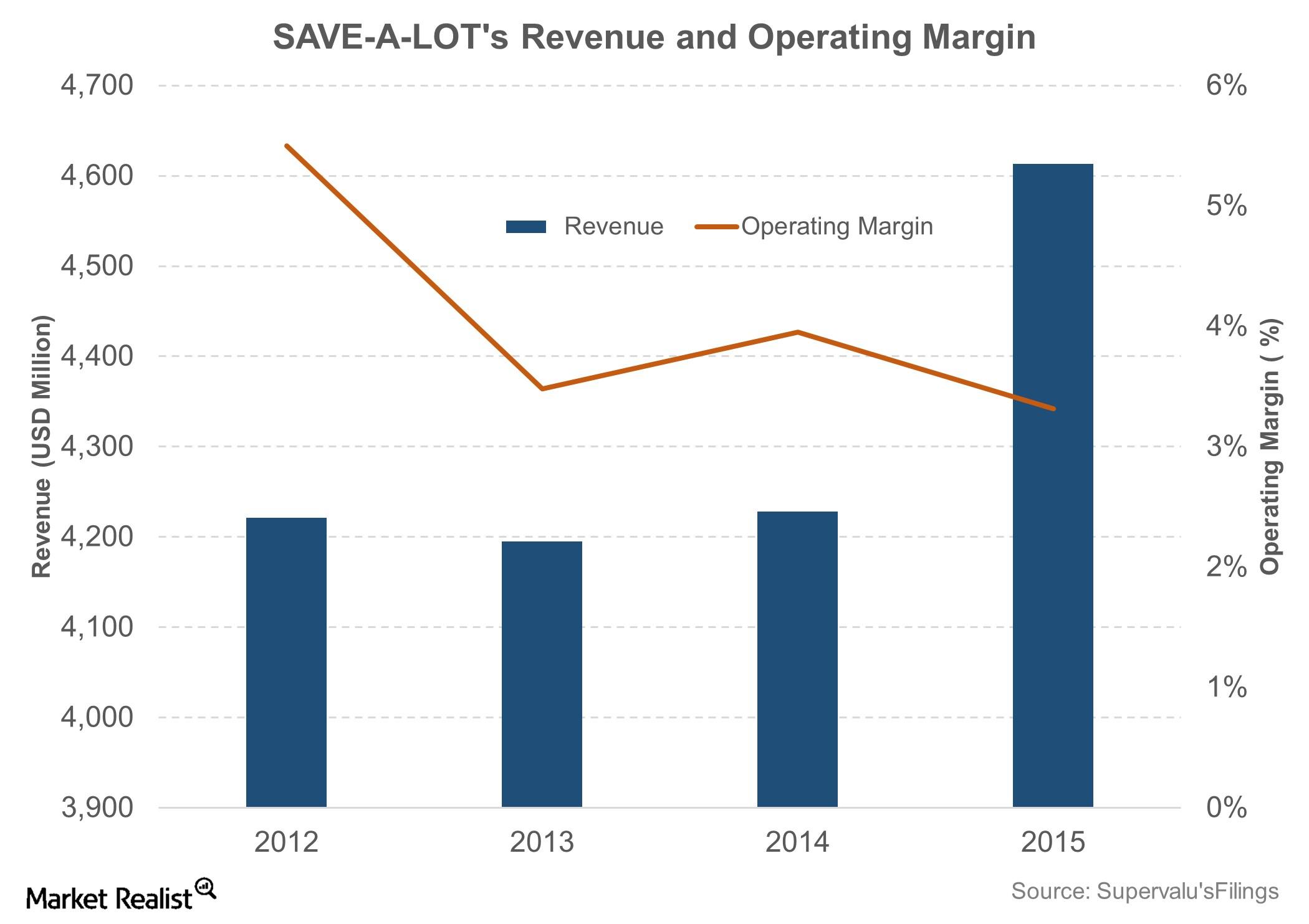 A Look at Save-A-Lot: SUPERVALU's Growth Engine
Snapshot of Save-A-Lot segment
SUPERVALU's (SVU) Save-A-Lot segment derives its revenues through grocery sales at retail locations operated by and also from stores licensed by the company and to which it provides wholesale distribution.
SUPERVALU acquired Save-A-Lot in 1993 from Wetterau. It's currently one of the largest US discount grocery chains by store count. Approximately 16,000 square feet in size, Save-A-Lot stores offer around 3,000 core and non-perishable stock-keeping units. Private label sales account for ~60% of corporate store sales.
Article continues below advertisement
As of February 2015, Save-A-Lot operated around 1,334 stores across 38 states in the United States. Of these, 903 stores were licensed Save-A-Lot stores, while 431 were company-operated stores. SUPERVALU is the primary grocery supplier to its licensed stores, and it provides wholesale distribution to its own stores and licensed Save-A-Lot stores through its 17 dedicated distribution centers.
Financial performance
Save-A-Lot is considered to be the growth engine of SUPERVALU. Although this segment brings in around a quarter of the company's revenues, its contribution toward the company's margins is the highest.
SUPERVALU's average operating margin has been around 1.1% during the last four years. In comparison, Save-A-Lot had an average operating margin of more than 4% during the 2012–2015 period.
Article continues below advertisement
Spin-off
In July 2015, SUPERVALU announced its intention to spin off the Save-A-Lot segment. When the spin-off happens, Save-A-Lot will operate as a separate public limited entity. SUPERVALU chief executive officer Sam Duncan said, "Splitting it off could enable Supervalu to focus on its other 200 grocery stores, like Farm Fresh and Cub Foods, and its wholesale business, which is one of the largest in the country." He also added that such a move could help Save-A-Lot become more competitive.
Competition and ETF exposure
Save-A-Lot faces direct competition from the discount stores of supermarket giant Kroger (KR) and mass merchandiser Wal-Mart (WMT) on one hand and hard discounters such as Dollar General (DG) on the other. All of the above-mentioned companies form a part of the SPDR S&P Retail ETF (XRT) and have a combined weight of 3.8%.