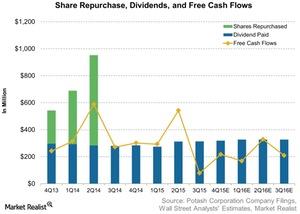 A Look at Potash Corporation's Cash Flows and Leverage
By Adam Jones

Dec. 4 2020, Updated 10:52 a.m. ET
Free cash flows
Generating enough free cash flows is key to distributing dividends and having a healthy balance sheet. One of the ways to arrive at free cash flows is by deducting capital expenditures from a company's operating cash flows. The company can use the remaining cash to pay dividends, repurchase shares, or retain it on the balance sheet for later reinvestment in the business.
Potash Corporation (POT) plans to reduce its capital expenditure from $1.3 billion in 2015 to $900 million in 2016. The company expects it to go down to about $700 million in 2017. However, this doesn't automatically mean there will be more cash left for distribution in the coming years.
Article continues below advertisement
During the first nine months of 2015, Potash Corporation's free cash flows declined to $913 million from $1.2 billion in the corresponding period in 2014. This was primarily due to a decline in potash prices. The company expects potash prices to stabilize in 2016. But if they fall below $200 per ton, the company may have to look for another alternative to sustain dividends.
Increasing leverage or disposing assets
Potash Corporation has stated that it's not looking to dispose of assets such as its nitrogen business in order to sustain dividends. But the company did say that exploring leverage was an option.
The leverage for Potash Corporation (POT), calculated as net debt over EBITDA (earnings before interest, taxes, depreciation, and amortization), currently stands at 1.4x. Mosaic (MOS) has a leverage ratio of 1.06x, CF Industries Holdings (CF) has a leverage ratio of 2.3x, and Agrium (AGU) has a leverage ratio of 1.9x.
Based on the average of 1.9x of these four companies in the agricultural fertilizer business, Potash Corporation's leverage gives it enough room to take on more debt, if needed. Currently, Potash Corporation has a total debt of $4.1 billion, which is 25% of the company's market cap.