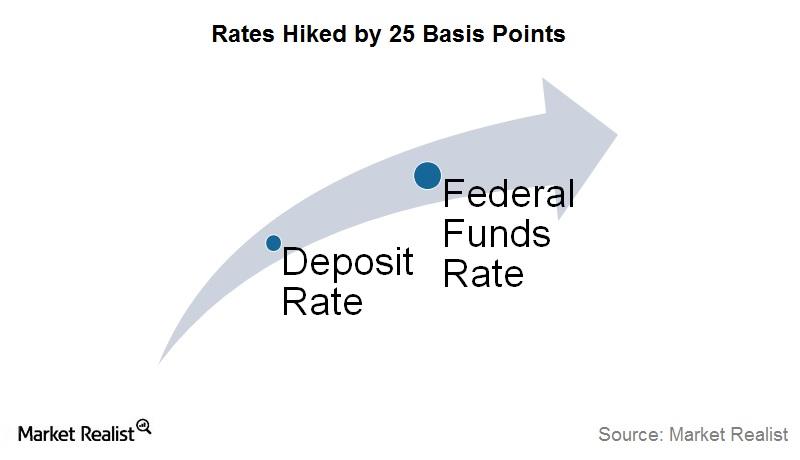 We Have Liftoff: Federal Reserve Hikes the Federal Funds Rate
By David Ashworth

Dec. 17 2015, Updated 11:12 a.m. ET
The rate hike is here
It's been seven years since the FOMC (Federal Open Market Committee) released its monetary policy document containing a decision on a change in rates. It was December 16, 2008, when the FOMC announced a 0.75%–1% reduction in the federal funds rate to 0%–0.25%.
Exactly seven years later, the FOMC has unanimously decided to hike the federal funds rate by 25 basis points to 0.25%–0.50%. In order to find the last time the rate was hiked, you'd need to look back nine-and-a-half years. The last rate hike was announced in June 2006. Needless to say, it's a historic decision. Policymakers also increased the discount rate, also known as the primary credit rate, by 25 basis points to 1% starting from December 17, 2015.
Article continues below advertisement
The primary reason
In its monetary policy statement released on December 16, 2015, the FOMC highlighted the strength of the labor market, saying that "there has been considerable improvement in labor market conditions this year." It further said that it was "reasonably confident" that inflation will rise to its mandated 2% pace in the medium-term. These were the primary reasons why the FOMC decided on a rise.
Another reason outlined by policymakers was "the time it takes for policy actions to affect future economic outcomes." By saying this, policymakers were trying to point out that policy decisions take time to show their impact on the economy. The current economic state of the United States was found to be suitable for a rate hike.
How did markets react?
The dollar was initially up following the announcement. However, it later pared its gains and was down against the euro.
The two-year Treasury note hit a high of 1.0% at 2:00 p.m., the time of the policy announcement, but later came down. The ten-year Treasury note had jumped to 2.33% before the policy announcement, then fell sharply to 2.25% following the announcement. The 30-year bond (WHOSX) (DRGBX) had reached 3.04% before the announcement but came down to 2.96% subsequently.
The PNC Financial Services Group (PNC), utilities major Southern Company (SO), and McDonald's (MCD) from the consumer discretionary segment rose on the day. The announcement was taken positively by most sectors.
In the next article, let's explore in detail how markets reacted to the statement.