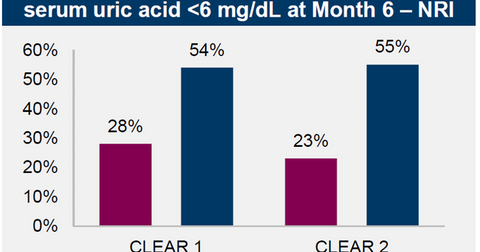 Lesinurad's Clinical Trials Demonstrate Strong Efficacy for Gout
By Margaret Patrick

Updated
Clinical trials
The FDA (U.S. Food and Drug Administration) is expected to announce its decision related to the approval of AstraZeneca's (AZN) lesinurad (or LESU200) by December 29, 2015. This approval will be based on data obtained from two Phase 3 clinical trials of lesinurad, CLEAR 1 and CLEAR 2. These clinical trials evaluated the efficacy of lesinurad in combination with allopurinol (or allo), a xanthine oxidase (or XO) inhibitor, for gout patients.
AstraZeneca has also conducted a Phase 3 clinical trial called CRYSTAL. In this trial, AstraZeneca evaluated the use of lesinurad in combination with febuxostat.
Article continues below advertisement
Clinical trial results
The above diagram shows the results of the CLEAR 1 and CLEAR 2 studies published by AstraZeneca on August 13, 2014. Both CLEAR 1 and CLEAR 2 were randomized, double-blind, placebo-controlled trials that tested the efficacy of dosage samples of 200-mg (milligram) and 400-mg lesinurad, respectively.
According to the National Institute of Arthritis and Musculoskeletal and Skin Diseases, "Gout is one of the most painful forms of arthritis. It occurs when too much uric acid builds up in the body." The primary endpoint or goal of the CLEAR 1 and CLEAR 2 trials was the percentage of test patients achieving uric acid levels less than 6 mg per deciliter of blood after six months of therapy.
MedicineNet explains randomized clinical trials as those "in which the participants are assigned randomly (by chance alone) to different treatments." According to MedicineNet, a double-blinded study is defined as a "medical study in which both the subjects participating and the researchers are unaware of when the experimental medication or procedure has been given. Double-blinded studies are often used when initial studies shows [sic] particular promise."
Article continues below advertisement
ClinicalTrials.gov defines a placebo (or PBO) as "a substance that does not contain active ingredients and is made to be physically indistinguishable (that is, it looks and tastes identical) from the actual drug being studied." In a placebo-controlled study, patients receiving the new treatment are compared with those who receive a placebo.
Trial results
When compared to patients receiving PBO or allo, patients on LESU200 and allo therapy managed to reach a primary endpoint at a substantially higher percentage of patients witnessing reduced serum uric acid levels. If approved, lesinurad will be competition to other major companies developing gout drugs such as Regeneron (REGN), Novartis (NVS), and Celgene (CELG).
In addition to strong efficacy, the adverse event (or AE) profile of lenisurad 200-mg therapy combined with allo was similar to that witnessed when allo alone was administered to patients. However, renal-related adverse events and an increase in serum creatinine levels were found when lenisurad 400-mg combined with allo therapy was tested.
So based on a risk-benefit analysis, 200-mg lenisurad has been recommended for patients with gout who could not substantially reduce their serum uric acid levels using XO (xanthine oxidase) inhibitors.
Investors can participate in the upside potential of lesinurad and still avoid excessive company-specific risks by investing in the VanEck Vectors Pharmaceutical ETF (PPH). AstraZeneca accounts for 4.6% of PPH's total holdings.