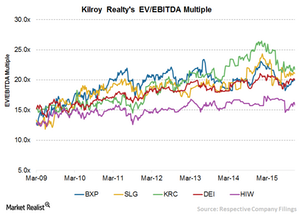 Why Does Kilroy Realty Trade at a Higher Valuation than Peers?
By Peter Barnes

Updated
Kilroy Realty's higher valuation multiple
A closer look at Kilroy Realty's (KRC) EV/EBITDA (enterprise value to earnings before interest, tax, depreciation, and amortization) multiple shows that it is in line with its historical valuation. Over the last six years, Kilroy Realty's EV/EBITDA has ranged between 14 and 26.5x, with a current EV/EBITDA multiple of around 21.7x. Kilroy Realty recorded its highest EV/EBITDA multiple in January 2015, while its lowest multiple was recorded in January 2010. The current industry average EV/EBITDA multiple is 20.2x.
Article continues below advertisement
EV/EBITDA ratio
The EV/EBITDA multiple is widely used for the valuation of real estate companies. EV (enterprise value) is the market value of equity and debt less cash and cash equivalents. The EV/EBITDA multiple values the worth of an entire company rather than just the equity portion.
Why is EV/EBITDA preferred?
A company that raises debt to fund operations will have a lower PE (price-to-earnings) multiple than a company that raises a similar amount of equity, even if the two companies have equivalent enterprise values. The company with the lower PE multiple looks cheaper than the company with the higher multiple. A company with a substantial amount of debt looks cheaper, while a company with less debt and higher equity looks pricey. REITs are capital-intensive businesses and most raise a lot of debt to fund their operations. Therefore, EV/EBITDA becomes an additional tool to value REITs, along with the price-to-FFO (funds from operations) multiple.
Peer group comparison
Kilroy Realty's EV/EBITDA multiple is higher than many of its close competitors' multiples. SL Green Realty (SLG) trades at an EV/EBITDA multiple of 21x, followed by Douglas Emmett (DEI) at 20x and Boston Properties (BXP) at 19.9x. Highwoods Properties (HIW) trades at lower EV/EBITDA multiple of 15.9x. The iShares Cohen & Steers REIT ETF (ICF) invests ~1.4% of its portfolio in Kilroy Realty. Next, we wrap up this series by analyzing investment in Kilroy Realty through ETFs.