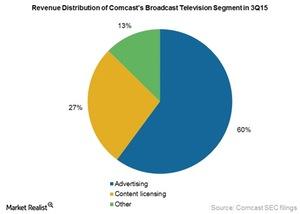 Key Growth Drivers of NBCUniversal Broadcast Television in 2016
By Shirley Pelts

Jan. 4 2016, Updated 10:05 a.m. ET
Retransmission fees growth
At the UBS (UBS) Global Media & Communications Conference held on December 7, 2015, Comcast (CMCSA) stated that in 2016, it expects retransmission fees and affiliate fees to drive its revenues for its Broadcast Television segment.
Comcast had retransmission fee revenues of $4 million around five years back. It expects retransmission fee revenues of $400–$500 million by the end of 2015 and expects retransmission fees of $800 million in 2016.
Comcast expects the growth in retransmission fees in 2016 to be driven by significant events occurring in 2016 that would be covered by the company's television networks. These events include the Olympics in Rio and the US presidential elections.
Article continues below advertisement
There is a possibility that the coverage of these events by Comcast's television networks could also boost the company's advertising revenues. This is because, considering the increased viewership for these events, advertisers would be eager to pay for advertising time slots during the telecast of these events.
Comcast believes that there is still room to monetize its affiliate fee revenues fully. This is because Comcast has stated that there is a possibility of demanding higher affiliate fees from broadcast television stations, considering the strong viewership for Comcast's NBC group of channels and its "broad array of cable networks."
Broadcast Television's performance in 3Q15
Comcast's Broadcast Television business had revenues of $2 billion in 3Q15, an increase of 11.3% over 3Q14. As the above chart indicates, advertising revenues had a significant 60% share of Comcast's Broadcast Television business, with revenues of $1.2 billion in 3Q15. Content licensing revenues made up 27%, or $537 million, of total broadcasting television revenues in 3Q15.
An increase in retransmission consent fees and a 33.5% growth in content licensing revenues fueled revenue growth in 3Q15. This business had an OIBDA (operating income before depreciation and amortization) of $150 million, an increase of 6.1% over 3Q14.
Comcast makes up only 0.96% of the iShares S&P 500 Growth ETF (IVW). IVW invests 2.7% of its holdings in Amazon (AMZN) and 4.8% in Microsoft (MSFT). IVW invests 3.0% of its holdings in the entertainment sector.