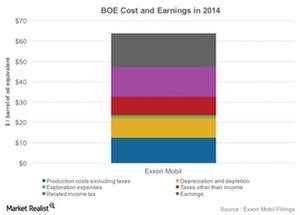 What Are the Key Factors that Drive Upstream Costs?
By Maitali Ramkumar

Dec. 9 2015, Updated 8:05 a.m. ET
Barrel cost of oil equivalent
In this part, we will consider cost-side dynamics of the upstream energy segment. The below chart depicts the barrel cost of oil equivalent for Exxon Mobil (XOM) for 2014. The production cost, or the cost of producing crude oil and gas from reserves, stood at $12.6 per boe (barrel of oil equivalent), whereas the exploration cost stood at $1.36 per boe. The taxes, including income tax, accounted for $24 per boe.
In 2014, XOM earned $17 per boe at an average price realization of $64 per boe. These values are important in the consideration of the upstream segment's costs and profitability. For BP (BP), production cost stood at $12.7 per boe in 2014.
Article continues below advertisement
Capital expenditures in upstream
Crude oil prices drive E&P (exploration and production) expenditures in energy companies. With crude oil prices declining in 2014, integrated energy companies have lowered their E&P capital expenditures. XOM's capital spending in E&P fell from $38 billion in 2013 to $32 billion in 2014. Also, Royal Dutch Shell (RDS.A) saw a 22% fall in capital spending in the upstream segment in 2014. Chevron's capital expenditure (CVX) stood at $37 billion in 2014, falling marginally from 2013.
The iShares Core High Dividend ETF (HDV) has more than 15% exposure to Exxon Mobil (XOM) and Chevron (CVX).
Other factors that affect capital expenditure include terrain, geology, and climatic conditions of E&P work. Costs can range from $25 per barrel to $75 per barrel depending on the complexity of the area of exploration and production and the availability of resources such as rigs. Deepwater costs are higher compared to onshore E&P costs. Similarly, costs of exploring and producing shale reserves are high. This leads to higher cost per barrel for companies, resulting in a slowdown in activities during periods of low crude prices.
In the next part, we will look into the downstream business segment of integrated energy companies.