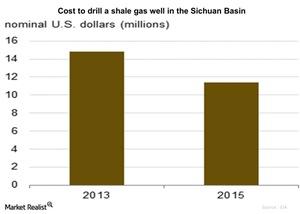 Joint Ventures in US Shale Plays Are Helping Chinese Companies Bring Down Well Drilling Costs
Chinese investments in US shale plays
To get expertise in shale gas exploration, China has invested more than 20% of the total investments in US shale gas exploration. Through his investment, China got the opportunity to work with global companies and gain some expertise. This skill can be utilized for its own residential generation of shale gas, which could bring down shale gas exploration and production costs.
Article continues below advertisement
Chinese expertise gain helps to reduce drilling costs
China's joint venture with the US in shale gas exploration and production has helped China bring down shale gas drilling costs. According to China National Petroleum Corporation's estimates, in mid-2015, the cost of drilling a horizontal shale well in the Sichuan Basin located in China was in the range of $11.3–$12.9 million per well. The above-mentioned range was 23% less than the cost of a shale gas well-drilling cost compared with the costs in the year 2013, as reported by Chinese oil company Sinopec.
International companies helping china to develop shale gas
Numerous universal organizations are additionally centering on developing shale gas in China. Much of this exertion has been driven by Sinopec and PetroChina, two of China's national oil organizations.
Initial shale gas development has been centered on the Longmaxi in the Sichuan Basin, which is estimated to hold recoverable volumes around 287 Tcf (trillion cubic feet). Sinopec and PetroChina are projected to reach 0.6 Bcf (billion cubic feet) per day of shale gas production by the end of 2015. And China's shale gas production is 13 Bcf per day in 2014.
Reading the impact on LNG carriers
Increasing shale gas output helps meet the growing demand for natural gas in China as well as to restrict growth in the country's natural gas imports. In turn, this could likely have a negative impact on LNG (liquefied natural gas) carriers Gaslog (GLOG), Golar LNG Partners (GMLP), Teekay LNG Partners (TGP), and Dynagas LNG Partners (DLNG). The negative impact will likely also extend to ETFs like the PowerShares International Dividend Achievers (PID) because of its holdings in the above-mentioned companies.
For more analysis, check out Market Realist's Energy and Power page.