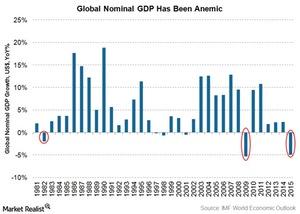 Jeffrey Gundlach: Why Global GDP Growth Doesn't Warrant a Rate Hike
By Surbhi Jain

Dec. 1 2015, Published 4:17 p.m. ET
Jeffrey Gundlach: Global nominal GDP has been anemic
The "King of Bonds," Jeffrey Gundlach, has a huge following in the investment community for his views about the US bond market (BND) (AGG) and the looming interest rate hike by the Federal Reserve. Gundlach, founder of the Los Angeles–based DoubleLine Capital, manages about $80 billion in assets. He used to be associated with TCW, where he finished the $9.3 billion TCW Total Return Bond Fund in the top 2% of all funds in the intermediate-term bond category.
Gundlach spoke to investors via a conference call on November 17. He highlighted the fact that global nominal gross domestic product growth has been anemic. In charts he laid out at the conference, Gundlach highlighted the weakness in the United States (SPY) and in global economies (VEU) (ACWI).
The chart above is what Gundlach called the "scariest chart." It depicts the historical trend in global nominal year-over-year GDP. Over the past four decades, global nominal GDP has registered negative growth just three times.
Article continues below advertisement
Global growth dips of ~5% have accompanied recessions historically
You can see the first instance during the 1980s recession in the United States (QQQ), which began in July 1981 and ended in November 1982. 1982 saw the Fed hike interest rates. The second instance marks the 2008–09 recession in the United States. The interest rate in the US economy has been zero-bound since then. Though the initial attempts at monetary easing, including the rate cut and bond buying packages, seem to have helped the GDP recover in 2010–11, they've again taken a back seat since 2012.
Currently, we can see that global nominal GDP growth has again dipped to levels only seen during recessions. In 2015, global nominal GDP fell 5% from the previous year. The global economic situation seems far from stable.
Gundlach thinks a Fed rate hike in the current environment would be premature.