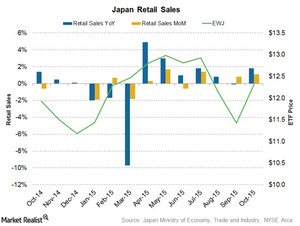 Japan's Retail Sales Rebounded in October
By Lara Sheldon

Nov. 20 2020, Updated 1:30 p.m. ET
Japan's retail sales increased 1.8% YoY in October
Japan has the second biggest retail market in the world and accounts for more than 55% of the whole Asian retail market. According to Japan's Ministry of Economy, Trade and Industry, retail sales rose 1.8% YoY (year-over-year) in October, as compared to the downwardly revised 0.1% decline in September 2015. On a month-over-month basis, retail sales grew 1.1% in October, as compared to 0.8% in September. With retail picking up in Japan, retailers such as Fast Retailing (FRCOY), Seven & i Holdings (SVNDY), and Yamada Denki (YMDAF) may see a surge in their top lines.
Article continues below advertisement
The iShares MSCI Japan ETF (EWJ) has risen 5.1% over the past year, whereas the WisdomTree Japan Hedged Equity ETF (DXJ) has fallen 2.6% over the same period, as of November 30. Sony (SNE), Mitsubishi UFJ Financial Group (MTU), and Honda Motor Company (HMC) have risen 18.0%, 12.2%, and 6.2%, respectively, whereas Toyota Motor Corporation (TM) has fallen 1.7% over the last year, as of November 30.
Fuel retailing declined 13.1% YoY in October
Other than fuel retailing, all industries saw an increase in October. While fuel retailing fell 13.1%, a YoY increase of 8.1% was seen in the textile, clothing, and personal items retail industry. Also, food and beverage retail sales increased 4.0% YoY in October 2015. In October, automobiles retail industry rose 3.0 YoY, and pharmaceuticals and cosmetics retailers saw a rise of 4.9% YoY.
With an aging population and low birth rate, Japan is grasped by a demographic imbalance. Given these demographic challenges, it is foreign tourists who help to increase retail sales. With the weakening of the Japanese yen, the number of foreign tourists has increased. Rising tourism and an increase in consumer confidence may lead to higher retail sales in Japan.
To learn more about consumer sentiment, read Consumer Sentiment: Why Consumers Remain Cautious about Spending.
To remain updated on the economic front, refer to our Global ETF Analysis page.