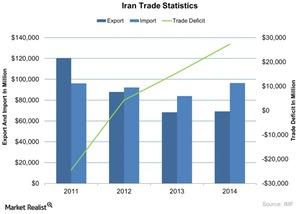 Iran Could Struggle to Get Regional Leadership in the Middle East
By Rabindra Samanta

Updated
Iran's gearing up to flood the crude oil market
Iran's economy has been crippled due to sanctions imposed by the European Union and other countries led by the US. The sanctions are supposed to be lifted in January 2016. Iran accounts for 9.3% of the world's total proved crude oil reserve. It's one of OPEC's (Organization of the Petroleum Exporting Countries) leading producers.
The above chart shows Iran's growing trade deficit and diminishing international trade in recent years.
Article continues below advertisement
Recently, Iran's oil minister announced a new model of contracts for foreign oil and gas companies during the two-day conference in Tehran. The new framework allows foreign investors to retain the oil fields for a longer period. The older contracts were for the short term. Earlier, foreign companies used to develop the oil fields and hand them over to Iranian oil companies.
The new contract laid down the framework. The foreign companies will develop the oil and gas fields. They will also extract the oil and natural gas from the fields. Foreign companies will own a stake in the oil and gas fields. However, the resources will belong to Iran. Europe (FEZ) will be a lucrative market for Iran.
Lucrative offer for Eurasia companies