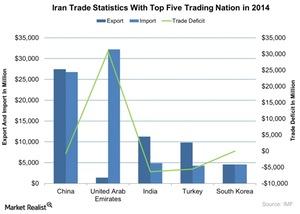 Iran Could Become OPEC's Leading Natural Gas Producer
By Rabindra Samanta

Dec. 4 2020, Updated 10:53 a.m. ET
Iran could become the leading natural gas producer in OPEC
Iran is the second leading natural gas producer in OPEC (Organization of the Petroleum Exporting Countries). It's after Qatar. In 2014, Iran produced 172.6 billion cubic meters of natural gas—compared to Qatar's 177.2 billion cubic meters. Geographically, Iran and Qatar share the same natural gas field in the Persian Gulf. Saudi Arabia produced 108 billion cubic meters of natural gas in 2014.
The market expects that after the ban is lifted, Iran will be the leading natural gas producer in OPEC. The cartel has been led by Saudi Arabia. Saudi Arabia is a close ally of the US (SPY) in the Middle East. Saudi Arabia produced 11,505 Mbpd (thousand barrels per day) compared to Iran's 3,614 Mbpd in 2014. In Saudi Arabia, the cost to produce a barrel of oil is ~$9.90—compared to $12.60 per barrel in Iran. The figure includes capital expenditure and operating expenditure. This is according to a study by Rystad Energy. The study published on November 23, 2015.
Article continues below advertisement
Iran's economy
Oil and natural gas are the important components of Iran's GDP (gross domestic product). Iran's top trading partners are China (FXI), the United Arab Emirates, and India (INDY). CNOOC (CEO), China Petroleum & Chemical Corporation (SNP), and PetroChina (PTR) represent the large-cap Chinese ADRs (American depositary receipts) in the oil and gas sector. Most of the countries account for Iran's energy exports. However, among the prominent EU (European Union) countries, Germany is an important trading partner of Iran. Turkey accounts for significant gas imports from Iran. The above chart shows Iran's exports and imports with the top five trading nations in 2014.