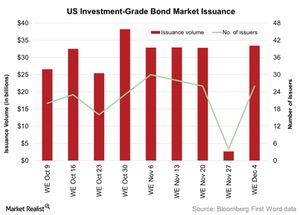 Investment-Grade Corporate Bond Issuance Surges
By Lynn Noah

Dec. 8 2015, Updated 7:41 a.m. ET
Deals and volumes of investment-grade corporate bonds
Investment-grade corporate bonds worth $33.5 billion were issued in the primary market in the week ending December 4, 2015. Investment-grade corporate bond issuance rose from $2.7 billion issued in the previous week. The number of issuers also increased to 26 from four in the previous week.
Last week, yields on investment-grade corporate bonds rose. And as a result, weekly returns of the John Hancock Bond Fund Class A (JHNBX) and the Strategic Advisers Core Income Fund (FPCIX) fell 0.19% and 0.15%, respectively.
Article continues below advertisement
Issuance by quality and maturity
Fixed-rate issues made up 95.1% of the total issuance last week. Floating-rate issues worth $1.7 billion were raised last week.
In terms of the credit ratings of issuers, BBB rated issuers were the most prolific. They made up 68.3%, or $22.9 billion, of total issuance. They were followed by A rated issuers, which formed 22.6% of the week's issuance. AA rated papers made up 8.2% of the total issuance.
In terms of maturity, the largest chunk of issuance, making up 36.8% of all issues, was the ten-year maturity category. This was followed by the three-year maturity category, which commanded 27.2% of the total issuance. The five-year maturity category made up 20.9% of the total issuance.
In the long-term maturity issuance, the 30-year category made up 14.1% of the total issuance, while the >30-year category and perpetuals did not see any issuance last week.
In the next part of this series, we'll highlight the major deals—including pricing, credit ratings, and yields.