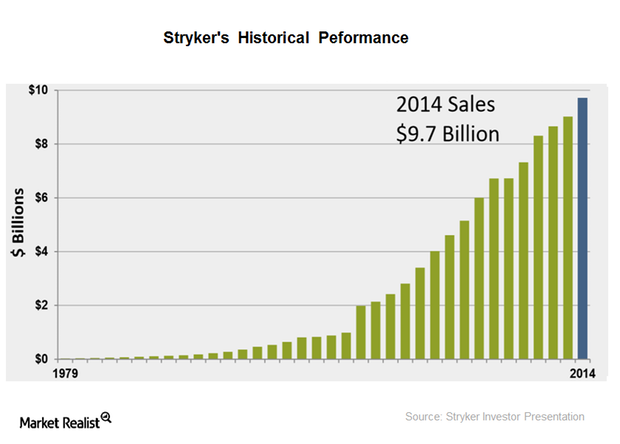 Introducing Stryker, an Orthopedics Giant
By Sarah Collins

Dec. 28 2015, Updated 3:05 p.m. ET
A brief overview of Stryker
Headquartered in Kalamazoo, Michigan, Stryker Corporation (SYK) is one of the leading medical device companies in the world. The company employs over 26,000 people and operates in more than 100 countries. Listed among Fortune 500 companies for the first time in 2002, Stryker owned more than 1,500 patents worldwide in 2014.
The company is meanwhile the second-largest player in the orthopedics market and offers products and services across the following segments:
Orthopedics
Medical and Surgical, or MedSurg
Neurotechnology and Spine
Notably, Stryker has witnessed sales growth for 35 consecutive years and registered a YoY (year-over-year) sales growth of 7.3% in 2014.
Article continues below advertisement
A brief history of Stryker
In 1941, a Michigan-based orthopedist named Homer Stryker invented the turning frame, a mobile hospital bed with a frame for repositioning the patient. With the success of the invention, the company was incorporated under the name The Orthopedic Frame Company in 1946. But driven by the need to provide more efficient and low-cost treatment to the patients, the company developed a number of other devices over subsequent years, such as the cast cutter, a device used to remove the cast material without cutting the underlying skin.
In 1964, the company name changed its name to Stryker Corporation. Stryker went public with its initial public offering in 1979. It expanded its operations and entered into orthopedics market through the acquisition of Osteonics the same year.
During 1980s, due to the introduction of a new medical payment system, the company witnessed a decline in the business of manufacturing hospital beds, the largest product line of Stryker at the time. Thus, it ventured into new product segments through various acquisitions and collaborations and expanded its product lines by accelerating the company's R&D (research and development) activities through almost quadrupled R&D investments.
Article continues below advertisement
In 1998, Stryker acquired Howmedica, the orthopedics division of Pfizer, which nearly doubled the size of the company. In 2001, Stryker entered the global orthopedics market. Over subsequent years, the company expanded across geographies and entered new business segments such as pain management, surgical navigation, waste management, interventional back pain, and urology.
In 2013, Stryker acquired MAKO Surgical, a pioneer in robotic arm assisted orthopedic surgeries.
Stryker's major competitors
Some of Stryker's major competitors in the United States include DePuy Synthes, a subsidiary of Johnson & Johnson (JNJ), Zimmer Biomet Holdings (ZBH), and Medtronic (MDT). Investors can invest in the Health Care Select Sector SPDR Fund (XLV) to gain exposure to Stryker and other major players in the medical device industry. Stryker accounts for around 1.1% of the total holdings of XLV.
Now let's look at Stryker's business model.