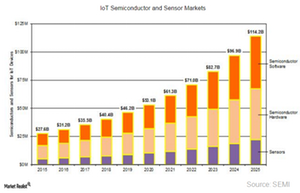 Internet of Things Gives New Meaning to Semiconductor Industry
By Puja Tayal

Updated
Internet of Things ecosystem
We've looked at the top four end-use application markets that are driving semiconductor sales. Summarizing all these applications is the emergence of IoT (Internet of Things). IoT is a technology that connects almost every electronic device to the internet and creates a connectivity between them. The IoT trend is not limited to hardware, but also software, storage, and data analytics.
The IoT ecosystem comprises enablers, engagers, and enhancers, as described by PricewaterhouseCoopers (or PwC). Semiconductor companies are the enablers, as they put into place the sensing, connectivity, and computing technology on a single chip known as SoC (system on chip). Engagers deliver IoT and networking services to customers, and enhancers provide value-added services.
Article continues below advertisement
Growth forecast
IDC (International Data Corporation) forecasts the number of connected devices to reach somewhere between 30 and 50 billion by 2020, equating to an IoT market of $8.2 trillion. However, Gartner expects 20 billion connected devices churning $8.9 trillion in revenue by 2020.
Out of the total semiconductor growth of $126 billion expected between 2014 and 2019, $33 billion, or 34%, is expected to come from IoT, according to PwC. Semiconductor Equipment and Materials International (or SEMI) expects the sensor and semiconductor market for IoT to reach $46.2 billion by 2019, as seen in the above graph. Looking at the IoT device type, PwC expects the following:
Sensing semiconductors to grow at a CAGR (compounded annual growth rate) of 42% to $7 billion by 2019
Connectivity semiconductors to grow at a CAGR of 4.8% to $127 billion by 2019
Computing semiconductors to grow at a CAGR of 6%–10%
Key developments in industry
The IoT market would require semiconductors such as microcontrollers, wireless connectivity, and embedded nonvolatile memory. Intel (INTC) has acquired Altera, and Qualcomm (QCOM) has acquired CSR to develop IoT-specific chips. Samsung (SSNLF) and Micron Technology (MU) are ramping up production of 3D nonvolatile memory to prepare for the IoT trend.
The trend is now moving toward integrating multiple functions on a single chip such as Qualcomm's Snapdragon 602A, which combines connectivity, networking, and embedded functions on a single chip. This is threatening pure-play, compute-focused chip providers.
In the next part of the series, we'll look at the end-use applications that will be the earliest and strongest adopters of IoT. You can gain exposure to large semiconductor companies through the SPDR S&P 500 ETF (SPY), which has a 0.93% holding in INTC and a 0.42% holding in QCOM.