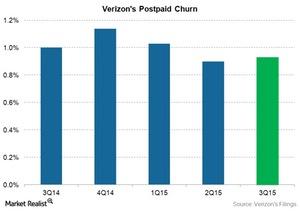 Installment Plans Positively Affect Verizon's Customer Retention
Verizon's customer retention and installment plans
In the last part of the series, we learned that Verizon (VZ) expects robust growth in the take rate of its installment plans in 4Q15 and 2016. During the UBS Global Media and Communications Conference held on December 7, 2015, Verizon's chief financial officer, Fran Shammo, highlighted the positive impact of these installment plans on the carrier's customer retention.
In reference to installment plans, Shammo said, "If anything, it has helped our retention rate. So we have become more competitive with the other providers; our current base is excited about what we have done and you saw that in the churn rate coming out of the third quarter where we increased and benefited 7 basis points year-over-year on reduction of churn."
Article continues below advertisement
Verizon's customer retention in comparison to peers
Now let's look at the customer retention of Verizon among the other top four US wireless carriers, which include AT&T (T), T-Mobile (TMUS), and Sprint (S). During 3Q15, Verizon continued to have the best customer retention among these telecom players. The telecom company's wireless postpaid churn improved YoY (year-over-year) from ~1% in 3Q14 to ~0.93% in 3Q15.
Meanwhile, Sprint Platform's postpaid churn improved from ~2.2% in fiscal 2Q14 to ~1.5% in 2Q15. Moreover, postpaid phone churn of T-Mobile was ~1.5% in 3Q15 compared to ~1.6% in 3Q14. For AT&T, the postpaid churn increased from ~0.99% in 3Q14 to ~1.2% in 3Q15.
Instead of getting direct exposure to Verizon's stock, you can get diversified exposure to the telecom company by investing in the SPDR Dow Jones Industrial Average ETF (DIA). The ETF held ~1.7% in the telecom company at the end of November 2015.