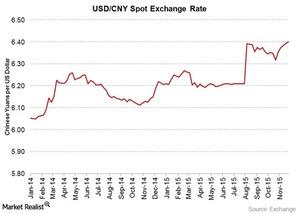 Chinese Yuan Will Benefit from Being a Reserve Currency
By Surbhi Jain

Nov. 20 2020, Updated 5:14 p.m. ET
China has been pursuing this recognition
The monetary authority in China (FXI) (YINN) has been working to get greater international recognition for its currency. China undertook and implemented a set of reforms, as we discussed in Part 4. So, why was it so important for China to get this recognition for its currency?
Article continues below advertisement
Benefits of being a reserve currency
Inclusion in the SDR (Special Drawing Rights) basket gives international recognition to any currency. It's a safe, reliable, and freely usable currency. This leads to increased acceptance in trade and other commercial transactions.
The SDR currencies can be used in international bailout arrangements. Since bailout sums are usually huge, it will increase its usability.
Recognition as a reserve currency would also undermine the ability of the West to impose financial sanctions on countries like Sudan and North Korea. This can shift trade to the renminbi.
The 10.9% weighting given to the Chinese yuan in the SDR basket will impact the interest countries pay when they borrow from the IMF (International Monetary Fund).
The scale of inflows the Chinese currency is due to receive in the coming months is bound to be impacted. We could see more investors parking their funds in the yuan versus the euro or other currencies as it gains ground over them. As we discussed in Part 2, the inclusion of the yuan already caused the euro's weight to fall by 17.3%. The yen and the pound fell by 11.4% and 28.4% in the SDR basket.
The short-term demand for the Chinese yuan shouldn't be impacted because the SDR forms a minor share of global (ACWI) reserves.
For the latest analysis on emerging (EEM) and developed (EFA) markets, visit Market Realist's Global ETF Analysis page.