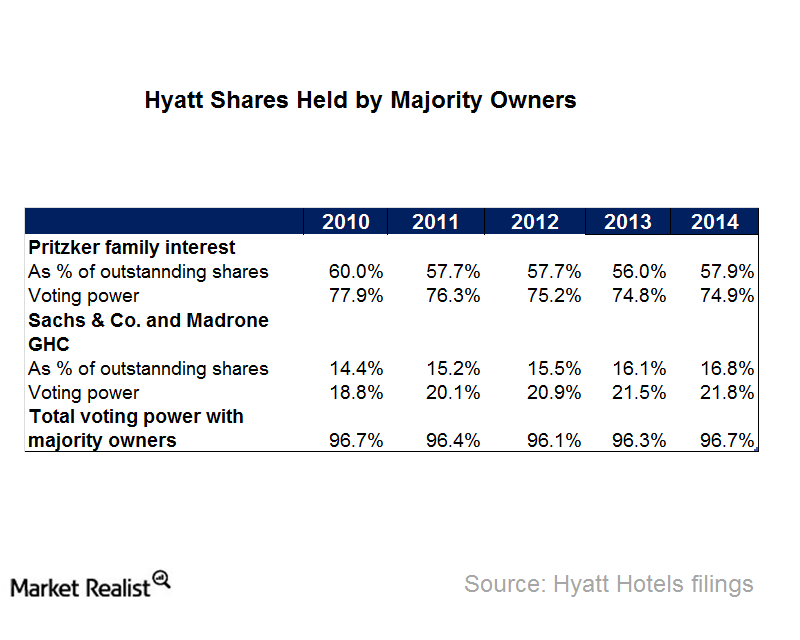 Hyatt's Retail Investors Have Skewed Voting Power
By Sam Matthews

Jan. 5 2016, Updated 8:05 a.m. ET
Dual class stock structure
Before we understand the stock structure of Hyatt (H), we will briefly discuss the dual class stock structure. A company is said to have a dual class stock structure when it issues two different types of shares. It may consist of Class A and Class B stock, which offer different voting rights and dividend payments.
More often, a company that has dual structure stock issues a particular class of stock that offers limited voting rights to the general public. The other class of stock, with higher voting rights, often lies with the founders and executives.
Article continues below advertisement
Hyatt's stock structure
As of January 31, 2015, Hyatt had 36.8 million Class A shares entitled to one vote and 111.4 million Class B shares entitled to ten votes. Class B shares are not actively traded in any stock exchange. Only three entities own most of the Class B shares.
The Pritzker family business interests own 77.3% of the Class B shares, or 58.2% of the total outstanding shares. However, the family owns 75% of the total voting power and has significant control over the election of directors and other matters submitted to the stockholders' approval.
What does it mean?
Investors have little say in some of the decisions taken. Hyatt has been aggressively buying back shares and the public float has been decreasing over the years. The company plans to continue to buy back Class A shares, which can further increase the majority shareholders' say in decision-making.
The majority owners can easily take the company private in the future, as other investors have reduced voting power. Majority shareholders have significant control when it comes to electing directors, company reorganization, changing capital structure, and other issues that need stockholder's approval.
Investors can gain exposure to the lodging sector by investing in the iShares US Consumer Services ETF (IYC). IYC invests 11.5% in the lodging sector, which includes 0.5% in Marriott (MAR), 0.4% in Starwood (HOT), and 0.39% in Hilton (HLT).