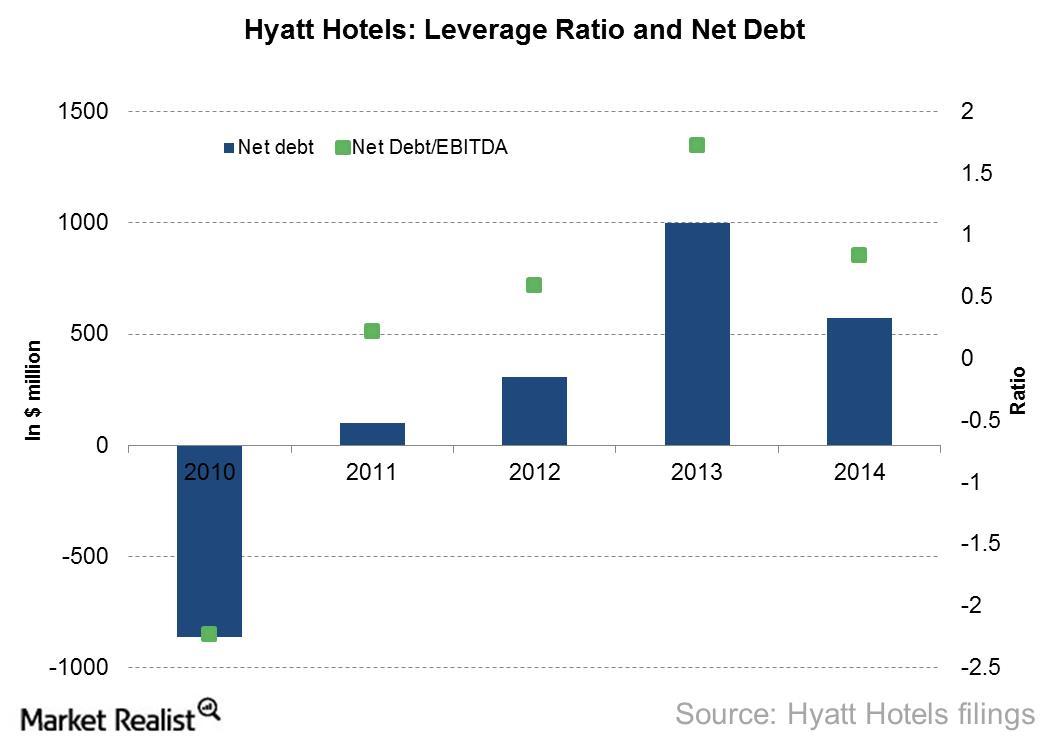 Hyatt's Leverage and Coverage Ratios
By Sam Matthews

Jan. 8 2016, Updated 8:05 a.m. ET
Total and net debt
Total debt and debt obligations are some of the most important factors for the hotel sector. The hotel sector is cyclical, and there is a risk of a company failing to meet its obligations in a downturn.
The total debt for Hyatt has increased from $2,112 million in 2010 to $3,512 million in 2014. Its net debt increased from -$863 million in 2010 to $575 million in 2014. However, its net debt has decreased from $999 million in 2013. Proceeds from the sale of assets in 2014 led to the increase in cash and cash equivalents from $484 million in 2013 to $815 million in 2014, resulting in declining net debt.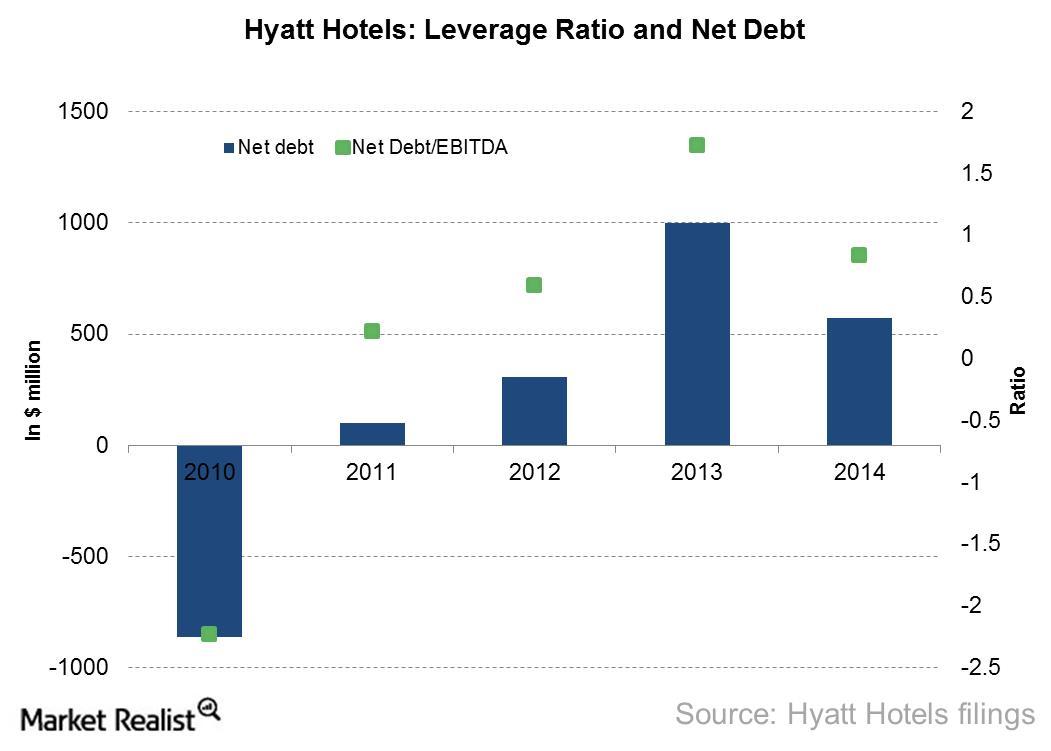 Article continues below advertisement
Net debt to EBITDA and interest coverage ratios
By the end of 2014, Hyatt had the lowest net debt to EBITDA, at 0.84. This ratio decreased from 1.7 in 2013 due to lower net debt than last year. Hilton (HLT) had the highest number, at 4.7, as of December 31, 2014. It was followed by Wyndham (WYN) at 4.2, Marriott (MAR) at 2.8, and Starwood (HOT) at 1.7. The company does not rely on debt as much as its competitors for its capital.
The interest coverage ratio for Hyatt is at 3.9, which is above the peers' average interest coverage ratio. Starwood (HOT) had the highest coverage ratio at 12, followed by Marriott (MAR) at 11.3 and Wyndham (WYN) at 10.4. Hilton (HLT) had the lowest interest coverage ratio at 3.8. Interest coverage ratio is the measure of how easily a company can pay off its interest expense.
This is calculated by dividing a company's earnings before interest and taxes, or EBITDA, recorded during a period by the interest expenses in that period. EBITDA is used instead of net income to check a company's interest coverage to avoid deducting interest expense twice, as well as tax expense changes depending on the interest paid during the period. Using EBITDA serves both purposes.
Hyatt's credit rating versus its peers
Hyatt has increased its leverage since 2010. The company is changing its capital financing by increasing its reliance on debt and is also returning capital to its shareholders. The company has an investment-grade rating from major credit rating agencies Standard and Poor's, Moody's, and Fitch. Marriott also has an investment-grade rating. Hilton, Starwood, and Wyndham have stable outlook ratings.
Investors can gain exposure to the lodging sector by investing in the First Trust Consumer Discretionary AlphaDEX ETF (FXD), which invests 9.3% in the sector.