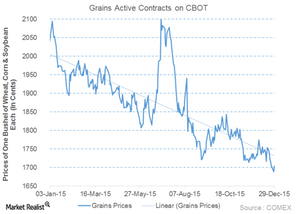 Is There Any Hope for Grains Prices in 2016?
By Sean Brown

Updated
Grains in 2015: a retrospective
In calendar 2015, production of key grains increased along with supply on account of favorable weather conditions. The speculation of unfavorable weather during the spring of 2015 also generally supported grains prices. But amid higher production and supply, grains prices continued to decline throughout the year.
Article continues below advertisement
Grain prices as of December 29
The above chart reflects the prices of grains wheat, corn, and soybean for one bushel at the end of the each trading day. These grains constitute major food staples around the world, and their supplies are reflected in their prices. The sharp downward sloping trend line shows that prices for all three key grains fell throughout the year, due to widespread availability and higher production.
The USDA's (US Department of Agriculture) producer cost standards also suggest that prices of the essential grains were trading below the cost of production from mid-August 2015. Amid the higher production and widespread availability of grains, producers came under pressure and decided to hold goods rather than selling them at the lower-than-cost prices. Likewise, amid stable production sentiments, grains producers put themselves at the mercy of short covering rallies.
Still, analysts suggest that producers should not start producing less as an escape from this situation because only production can get such good rates. And as the coming year is anticipated to be tough in the way of weather, lower production doesn't appear to be an ideal solution. So although grain prices pretty much tanked during 2015, there are hopes that 2016 will be favorable.
Grain companies and ETFs
Fertilizer and other agricultural supportive businesses were down as well, with lower grains prices discouraging farmers from spending money on fertilizers. Fertilizer companies Martin Midstream Partners LP (MMLP), Chemical & Mining Company of Chile (SQM), and Monsanto (MON) declined by approximately 28.9%, 22%, and 26.39%, respectively, in calendar 2015 as of December 29, 2015.
Although Syngenta (SYT) increased by 23.83% during the same period, the PowerShares DB Commodity Index Tracking Fund (DBC) plunged by 26.39% also during the same period.
Keep checking in with Market Realist for more analysis and updates in 2016.