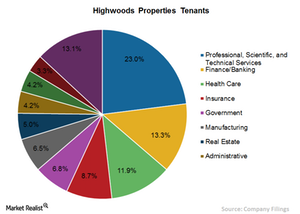 Highwoods Properties' Diversified Tenant Base
Diversified tenant base
Highwoods Properties (HIW) has a diversified customer base comprising some of the top names in the professional, scientific, and technical services, finance and banking, healthcare and social assistance, insurance, manufacturing, government and public administration, educational services, and telecommunication industries. The diversified tenant base reduces the company's dependence on any particular industry.
Article continues below advertisement
Top tenants
The company's top 20 customers comprised less than 25% of the company's total revenue and occupy a rentable area of 6.3 million square feet. No single customer except the federal government comprised more than 2.5% of the total revenue. As of September 2015, the company's top five tenants are as follows:
federal government – 5.5% of annualized revenue
Metropolitan Life Insurance – 2.3% of annualized revenue
PPG Industries – 1.4% of annualized revenue
HCA Holdings – 1.2% of annualized revenue
EQT Corporation – 1.2% of annualized revenue
The above tenants occupy an area of 3 million square feet or 11% of the company's total rentable area.
Lease expirations
As of September 2015, 67.4% of the company's leases are long term in nature, expiring after 2019. Leases expiring after 2019 comprise a rentable area of 16.9 million square feet of the total occupied rentable area of 25.1 million square feet. The long-term nature of leases ensures steady cash flow to the company without any risk of renewals.
Other major office REITs such as Alexandria Real Estate Equities (ARE), SL Green Realty (SLG), and Boston Properties (BXP) are following the same tenant diversification strategy and looking for long-term leases. The iShares Dow Jones US Real Estate ETF (IYR) invests ~0.5% of its portfolio in Highwoods Properties. In the next article, we'll discuss Highwoods Properties' property acquisitions and dispositions.