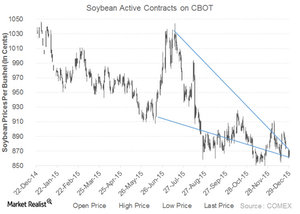 Higher Export Competition Could Pressure Soybeans in 2016
Soybean production in the US
The United States is the second-largest producer of soybeans in the world, according to the USDA's (US Department of Agriculture) 2014 production report, coming in at 39,100 thousand metric tons. According to the USDA's World Agriculture Supply and Demand Estimation Report for December, soybean production during fiscal 2015–16 is projected to remain at 3,981 million bushels, which represents a rise of 54 million bushels from the previous year's December WASDE report. Calendar 2015 has been consecutively productive for the US.
Article continues below advertisement
Record production for the second consecutive year
For the second consecutive year, record production dragged soybean prices down sharply, particularly over the past six months. Soybean prices have dropped highest in the month of August 2015 due to higher-than-projected rise worldwide, leaving surpluses on account of higher production.
On the whole, calendar 2015 was good for soybean production as the weather conditions have been favorable with enough moisture throughout the season. Harvest activities progressed faster than the last five-year average initially, which was later delayed due to unfavorable rainy conditions for harvest. Expected soon, the January World Agriculture Supply and Demand Estimation Report anticipates higher soybean production data compared to the previous year.
The weather conditions in 2016 might remain unfavorable for the US soybean production. Adverse weather conditions induced by el Niño concerns might influence soybean production negatively in 2016. Anticipated higher production from crucial competitors in export market—namely, from Argentina and Brazil—might bring adverse price movements for soybeans, although domestic crushing is projected to remain high and support the prices.
Checking in with soybeans stocks and ETFs
Due to low soybean prices, fertilizer businesses were negatively affected in 2015. Fertilizer companies Terra Nitrogen Company (TNH), Potash Corporation (POT), Mosaic Company (MOS), and Agrium (AGU) declined by 1.36%, 50.04%, 36.92%, and 4.1%, respectively, during 2015 as of December 29, 2015. The Material Select Sector SPDR (XLB) also declined by 9.13% YTD (year-to-date).
In the next and final part of this series, we'll take a broader look at grain prospects in 2016.