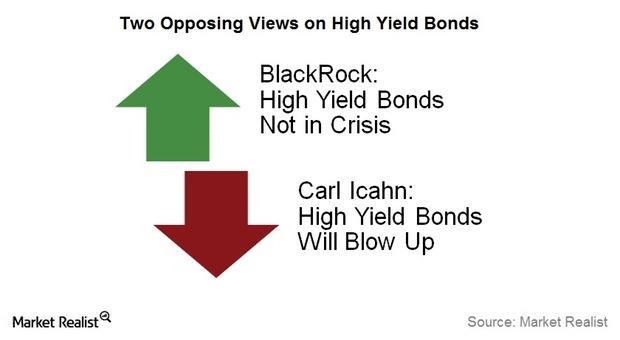 High-Yield Bonds: Carl Icahn versus BlackRock
By David Ashworth

Dec. 31 2015, Published 11:28 a.m. ET
BlackRock: High-yield bonds aren't in crisis
Investment manager BlackRock thinks that the high-yield bond market (MHITX) isn't signaling a recession. Peter Fisher, senior director of the BlackRock Investment Institute, spoke to CNBC on the issue two days before the Fed hiked the federal funds rate.
We had noted in Part 2 of this series that rising spreads can indicate worsening economic and credit conditions. These rising yields and spreads lead to higher default rates among high-yield bond issuers.
Article continues below advertisement
However, Fisher said that the rising default rates may not be indicating a recession this time. Instead, they might be pointing to the segment of the market that's already seeing a recession—energy. Issuers from the energy sector carry a high risk of default given the sharp fall in energy prices. The fall hurt stocks like Total (TOT), ExxonMobil (XOM), Chevron (CVX), and Statoil (STO).
Carl Icahn: High-yield will blow up
Renowned investor Carl Icahn spoke to CNBC earlier in December. He called the high-yield market a "keg of dynamite" that's bound to blow up sooner or later.
Icahn was critical of high-yield bonds earlier as well. In fact, he took on BlackRock directly in July 2015. Addressing high-yield bonds at CNBC's Delivering alpha conference, he expressed his displeasure at BlackRock for pushing the instruments though their ETFs that he believed were illiquid.
Coming back to liquidity
The IMF (International Monetary Fund), in its Global Financial Stability Report issued in October 2015, estimated that "a permanent 200 basis point rise in the spread for high-yield U.S. corporate debt from a liquidity shock could result in a number of costs for investors." One of these costs included "significant" mark-to-market losses for retail and institutional investors.
Concerns about liquidity in high-yield bonds and related instruments already claimed the first major victim—a mutual fund. We'll look at this in the next part.