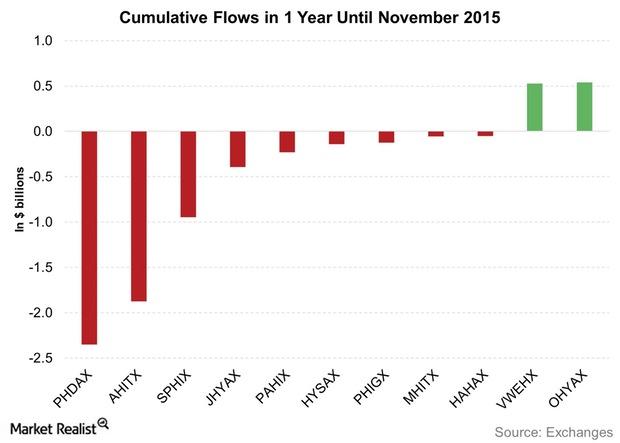 High-Yield Bond Mutual Funds: What to Expect in 2016
By David Ashworth

Nov. 20 2020, Updated 5:09 p.m. ET
Flows in high-yield bond mutual funds
In 2015, there were large outflows from several high-yield bond mutual funds. For instance, the PIMCO High Yield Fund (PHDAX) is invested in junk bonds of Tenet Healthcare (THC), Teleflex (TFX), and Rite Aid (RAD), among several others. It saw cumulative monthly outflows of $2.3 billion in the one-year period ending November 2015.
Some of the funds that we evaluated and cautioned investors about in this series, like the American Funds American High-Income Trust (AHITX), are also among the funds that saw very high outflows.
There are a few funds, like the Vanguard High-Yield Corporate Fund (VWEHX), that saw inflows during the same period.
Article continues below advertisement
Evaluation of high-yield bond mutual funds
In our fund-specific evaluation of high-yield bond funds, we considered a few of the funds with more than $1 billion in assets. The evaluation is only indicative. It isn't exhaustive. It's supposed to give you an idea of how the large funds are placed.
What to expect in 2016
You would only extend credit to a high-yield bond issuer if you're confident. The issuer also sees money coming in because investors want that bit of higher yield compared to investment-grade bonds and Treasuries. During good times, the philosophy works more often than not. However, it's when the times are bad that these bonds are tested.
During favorable economic conditions, the riskiest high-yield bonds provide the most returns—even compared to equity returns. However, being invested in the deep end of junk bonds is what caused Third Avenue Focused Credit Fund to liquidate. The fund invested in risky assets. Its latest N-Q filing showed that 19.6% of its assets were classified as Level 3—the least liquid.
In comparison, the funds analyzed in this review are quite liquid. In good times, they may not have performed as good as the ones that were invested in the deep end of junk bonds. In testing times, several of these funds should be able to keep their heads above water if redemption requests come in.
If you're a moderate investor invested in high-yield bond mutual funds, you could consider moving some of your assets to investment grade funds (OPIGX). If you're one of the more adventurous ones, get ready for a slightly bumpy ride in 2016. The interest rate hike will put pressure on these bonds. If economic conditions remain steady, then you shouldn't worry too much. However, if there are liquidity strains, it could be better to redeem your investment and live to invest another day.
For more analysis on mutual funds, visit Market Realist's Mutual Funds page.