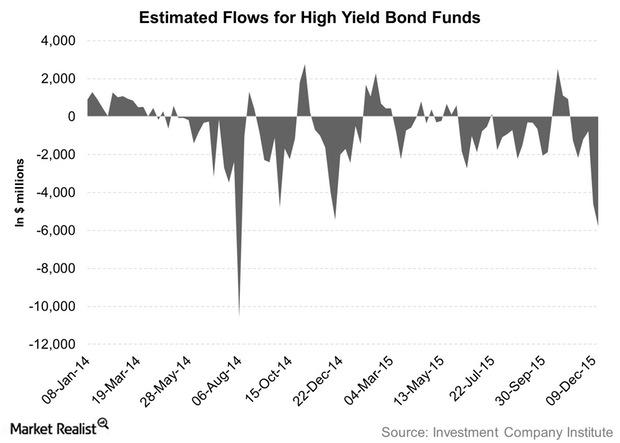 High-Yield Bond Fund Flows in 2015: Not a Pretty Picture
Fund flows
High-yield bond funds (PAHIX) have become out of favor with investors. Recently, the ICI (Investment Company Institute) released weekly data on estimated fund flows for high-yield bonds funds. The data were of weekly frequency up to December 16, 2015. The ICI released data for high-yield bonds specifically due to concerns about the liquidity of these funds. The data for 2014 and 2015 are presented below.
The data show that in the week leading up to the Fed's decision to the hike rates in the US and in the week preceding that high-yield bond funds saw cumulative outflows worth over $10 billion.
Apart from flows, December has been light on issuance as well. Ball (BLL), MEDNAX (MD), and HCA Holdings (HCA) were among the major issuers in the month.
Article continues below advertisement
Unprecedented?
In an update published on December 23, the ICI maintained that outflows, specifically in November and December 2015, aren't unprecedented. The outflows seen in these two months were 4.3% of high-yield fund assets at the end of October 2015. According to the ICI, the outflows in July and August 2014 were 4.6% of the June 2014 assets.
Is there something more to it?
As we noted earlier, due to slump in the energy sector, high-yield bonds funds came under more pressure. If defaults among energy companies that have issued junk bonds rise substantially, then another fund closure, like the Third Avenue Focused Credit Fund, can't be ruled out.
The rate hike, effective on December 16, can make matters worse for high-yield bond funds. Later, we'll look at this aspect closer.
Could your high-yield bond mutual fund be at risk? We'll analyze some of the large funds like the Vanguard High-Yield Corporate Fund – Investor Shares (VWEHX), among a few others, in this series to see if the funds are at risk.