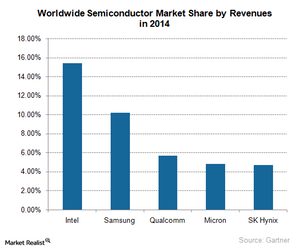 What Would Happen if Qualcomm Merged with Intel?
By Puja Tayal

Updated
Synergies from an Intel-Qualcomm merger
In the previous part of this series, we saw that a Qualcomm (QCOM) split isn't an ideal solution. It would lead to a permanent loss of the company's dominant share in the mobile market. However, Wall Street analysts believe Qualcomm can derive value by partnering with Intel (INTC).
If there were a merger between Qualcomm and Intel, it would be the biggest merger deal so far in the semiconductor space. It would create a combined company that would dominate data centers, PCs (personal computers), and the mobile market. It would be a leading player in the IoT (Internet of Things) space.
Article continues below advertisement
Leader in mobile chips
Intel has been looking to make its mark in the mobile segment, but its processors failed to compete with Qualcomm's ARM processors. If the two were to merge, Intel would get direct access to Qualcomm's successful mobile technology, thus making it a leader in this space.
Leader in IoT chips
Article continues below advertisement
Leader in data center
Qualcomm has been looking to grow in the cloud computing market with its ARM processors. A Qualcomm-Intel entity would own both x86 and ARM processors. That would kick out the competition from Advanced Micro Devices (AMD).
Optimum utilization of fabs
A merger would also help Intel make optimum utilization of its fabrication facilities, or fabs. Qualcomm could then manufacture high-performance chips at reduced costs using Intel's advanced fabs equipped with the latest technology. This would reduce Qualcomm's reliance on third-party foundries such as Taiwan Semiconductor Manufacturing (TSM).
The challenges of an Intel-Qualcomm merger
If Intel and Qualcomm were to enter into a merger agreement, the merger would come under strict regulatory scrutiny. Intel already has several antitrust cases in Europe, Korea, and the United States. China (MCHI) would also pose a major problem. Intel has good relations with China, but Qualcomm's relations with the country are tense.
If a merger did happen, Qualcomm would have to spin off its licensing business to allow the new entity to adopt an ideal capital structure. Next, let's look at Qualcomm's stock performance in 2015.