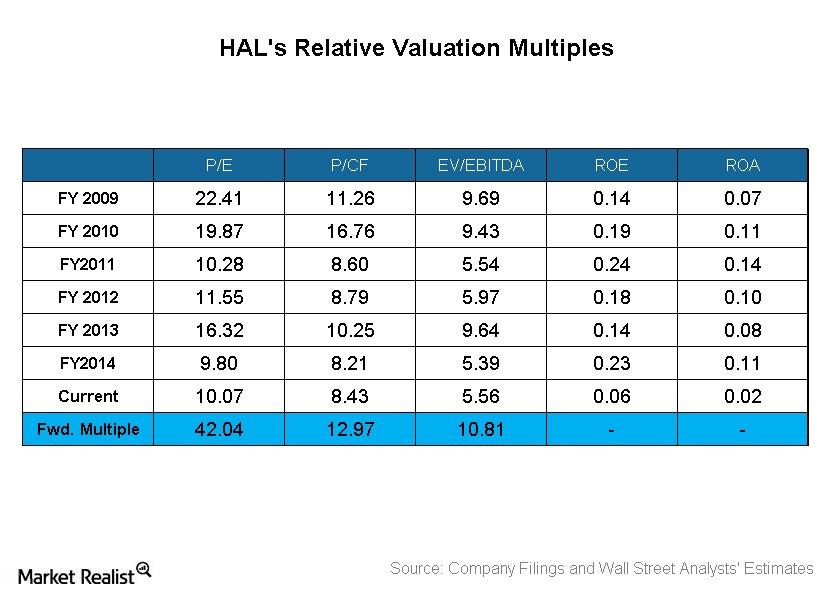 Does Halliburton's Valuation Point to Further Decline?
By Alex Chamberlin

Aug. 18 2020, Updated 6:16 a.m. ET
Halliburton's PE trend
Halliburton's (HAL) price-to-earnings (or PE) multiple contracted from fiscal 2009 to fiscal 2014, with the exception of a sudden spike in fiscal 2013. Until fiscal 2014, HAL's adjusted earnings increased threefold over the past five years. On average, its share price rose 34% during the same period. So, stronger earnings growth relative to a rise in share price rise caused the PE valuation contraction over the past five years. In fiscal 2013, HAL's share price rallied on the back of robust international drilling and offshore activity and improvement of operations in North America, causing the PE multiple to soar.
Article continues below advertisement
Forward PE considers the sell-side analyst consensus estimate of earnings for the next four quarters. HAL's forward PE of 42.0x is significantly higher than the current PE multiple, which indicates an expected sharp drop in earnings over the next four quarters. This explains the low current PE multiple.
HAL's cash flow from operations (or CFO) has remained relatively strong over the past years as a result of HAL's higher revenues and efficient cost management. Although HAL's share price increased, the CFO growth was higher at 69% in the past five years until fiscal 2014. This led the company's price-to-CFO multiple to fall. Going forward, analysts expect CFO to fall sharply.
Halliburton's EV/EBITDA trend
Halliburton's valuation, expressed as an EV/EBITDA multiple, fell from 2009 to 2011. It has hovered within a narrow band since, with the exception of a spurt in fiscal 2013. In fiscal 2014, HAL's EV fell ~20% over the previous year. Since HAL's net debt remained steady during the same period, HAL's fall in market capitalization, as a result of share price drop, caused EV to fall sharply. HAL's EBITDA (or earnings before interest, tax, depreciation, and amortization) rose 43% in fiscal 2014 over fiscal 2013. Thus, HAL's EV/EBITDA multiple fell steeply in fiscal 2014. Nabors Industries' (NBR) TTM EV/EBITDA currently stands at 5.2x, lower than HAL's 7.4x. HAL makes up 12.7% of the VanEck Vectors Oil Services ETF (OIH), an ETF tracking an index of 25 oilfield services companies.
Forward EV/EBITDA considers the sell-side analysts' consensus estimate of EBITDA for the fiscal year. HAL's forward EV/EBITDA multiple for 4Q15 is higher than its current EV/EBITDA multiple. This implies that analysts expect a decrease in HAL's EBITDA in fiscal 4Q15.
HAL's operating metrics
Since fiscal 2013, HAL's return on equity (or ROE), defined as adjusted net income divided by shareholder equity, increased 62% to 0.23 at the end of fiscal 2014. HAL's return on assets (or ROA) has also gone up by a similar level to 0.11 in fiscal 2014. However, both the metrics had fallen until 3Q15, highlighting HAL's sharply falling profitability. The difference between ROE and ROA is the effect of debt or leverage on the company's balance sheet.
Next, we will discuss HAL's valuation compared to its industry peers.