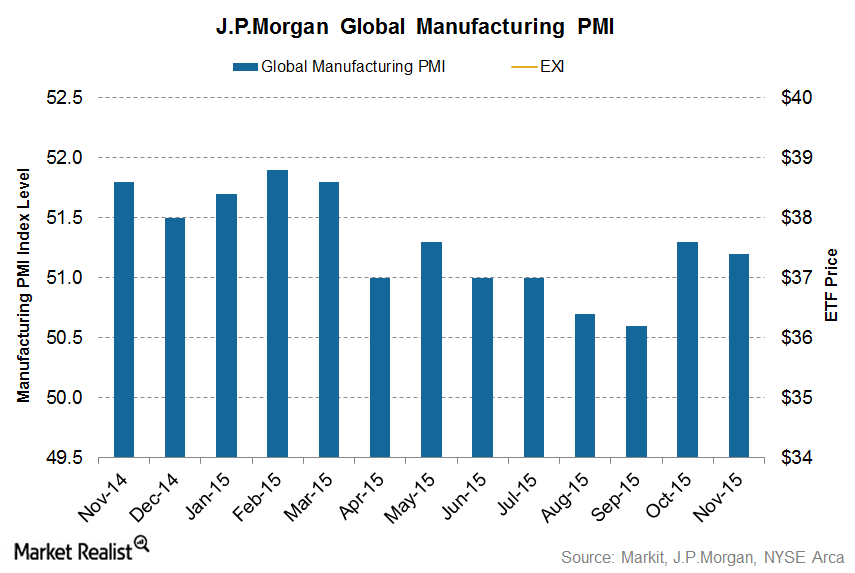 Global Manufacturing Activity Remained Soft in November
Global manufacturing PMI fell to 51.2 in November
According to J.P. Morgan and Markit, the global manufacturing PMI (purchasing manufacturers' index) fell slightly to 51.2 in November, compared to 51.3 in October 2015.
Although global manufacturing remained muted in November, an annualized growth of 2.5% reflects improvement in production. The MSCI All-Country World Index ETF (ACWI) and the iShares Global Industrials ETF (EXI) rose 0.99% and 0.64%, respectively, as of December 1. Global companies Microsoft (MSFT), Exxon Mobil Corporation (XOM), General Electric Company (GE), and Johnson & Johnson (JNJ) were up 1.6%, 0.28%, 0.77%, and 1.1%, respectively, as of December 1.
Article continues below advertisement
North America and Europe continued to register solid growth
In November, North America and Europe continued to see solid growth in new orders and output. Growth in the US remained close to October's level. An increase in Mexico's production level offset the continued downturn in Canada.
In the Eurozone, manufacturing has seen a broad-based upturn. Other than Greece, all the European countries saw a surge in new orders and production levels. Also, growth remained solid in the UK, Poland, and the Czech Republic in November.
Other than Japan, most of the Asian economies reported a lackluster and declining trend in November. Output growth stagnated in China and Vietnam and fell in Taiwan, South Korea, Indonesia, and Malaysia. In South America, Brazil experienced contraction in its manufacturing activity in November.
Employment remained muted in November
With slow growth, employment remained muted in November. Staffing levels increased in the US, Japan, Germany, Taiwan, and South Korea, but declined in China, the UK, France, and Brazil.
Cost inflation and selling prices both decrease
With declining commodity prices, cost inflation remained lower during November. Manufacturers didn't raise selling prices, passing the benefits of lower costs to their customers. Although manufacturing was muted in November, considering the slowdown in China and other emerging economies, the growth achieved so far appears to be significant. However, to encourage further growth in momentum, Federal Reserve policymakers may decide on some kind of stimulus during its December meeting.
In the next article, let's see how manufacturing is shaping up in the US.