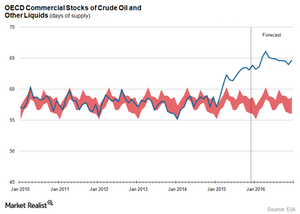 Crude Oil Inventories Suggest Bear Market May Extend beyond 2016
Global crude oil inventory 
In its December 2015 STEO (Short-Term Energy Outlook) report, the EIA (U.S. Energy Information Administration) stated that global crude oil inventories averaged 1.8 MMbpd (million barrels per day) in 3Q15, compared with 2 MMbpd in 2Q15. The global crude oil inventory of 2 MMbpd in 2Q15 was the highest since 4Q08. The current crude oil days of supply in developed economies such the United States' are also at their highest in recent years.
Article continues below advertisement
Crude oil inventory by country 
The largest of the crude oil inventories are held by the United States, Saudi Arabia and China. The US commercial crude oil inventory was at 484.8 MMbbls for the week ended December 18, 2015. For this period of the year, this inventory is the highest it has been in the last 80 years. Saudi Arabian crude oil stocks are more than 320 MMbbls so far in 2015. China is also scaling up its crude oil reserves, and they are at record levels. It is also building up new strategic crude oil reserves.
Crude oil inventory estimates
The EIA projects that global crude oil inventories could slow down to 1.4 MMbpd in 4Q15, and then fall to an average of around 0.6 MMbpd. The IEA (International Energy Agency) estimates that global crude oil inventories were at 3 billion barrels in 2015. These inventories could expand until late 2016 by 300 MMbbls. The record refined products inventories in the United States and China are also weighing on the crude oil market.
Article continues below advertisement
Impact
The record global crude oil inventories are bearish for crude oil prices. The consensus of rising crude oil inventories will continue to put pressure on the global crude oil market. Record global crude oil inventories and a wider contango market benefit oil tanker companies such as Frontline (FRO), DHT Holdings (DHT), Teekay Tankers (TNK), and Euronav (EURN). They put more pressure on oil producers such as Apache Corporation (APA) and Murphy Oil (MUR).
ETFs such as the iShares US Oil Equipment & Services ETF (IEZ), the Vanguard Energy ETF (VDE), and the First Trust Energy AlphaDEX ETF (FXN) are also influenced by volatility in the oil market. In the next part of this series, we'll explore how the depressed energy market is weighing on OPEC (Organization of the Petroleum Exporting Countries).