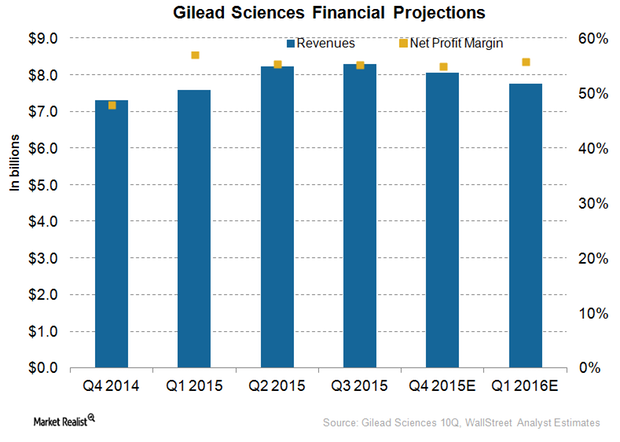 Gilead Sciences in 4Q15: Analysts Project Modest Revenue Growth
Modest revenue growth
On February 02, 2016, Gilead Sciences (GILD) will announce its 4Q15 earnings for the period ending December 31, 2015. Wall Street has estimated Gilead Sciences' 4Q15 revenues to be about $8.1 billion, a growth of 10.3% on a year-over-year (or YoY) basis, but a fall of 2.7% as compared to revenues earned in 3Q15. In 4Q15, Gilead Sciences is expected to register a net profit margin of ~55.0%, higher than that projected for peers such as Biogen (BIIB), Amgen (AMGN), and Celgene (CELG) at 34.1%, 32.1%, and 41.6%, respectively.
The graph above shows that analysts expect Gilead Sciences' revenues to fall and reach $7.8 billion in 1Q16. These estimates account for an expected fall in the company's revenues due to slow growth of new hepatitis C (or HCV) patients as well as pricing pressures in the US market.
Article continues below advertisement
Since the beginning of 2015, Gilead Sciences has managed to register strong growth in new patients initiating the company's HCV therapy in European markets. In 3Q15, the company witnessed strong warehoused demand in Spain and Italy, as patients delayed their treatment and waited for the launch of Gilead Sciences' HCV drugs. This demand is, however, expected to gradually fall and eventually stabilize. A similar trend was also observed in Germany and France, where there was a steep initial uptake that gradually fell to more consistent levels.
Gilead Sciences' HCV drugs also face access-related problems in terms of costs. The majority of health insurance companies approve the use of Gilead Sciences' HCV drugs for patients with a fibrosis score of F3 and F4 only. However, this restricts the company's ability to target patients with fibrosis scores from F0 to F2, accounting for 51% of the total HCV afflicted population. These factors are expected to contribute to the gradual fall in the company's overall revenues in future quarters.
Stable profit margins
Despite falling revenues, Wall Street has projected that net profit margins will continue to remain stable for Gilead Sciences in 1Q16. This can be attributed to the favorable changes in the company's product mix, where HIV patients are actively switching from Atripla, a lower margin drug, to other, high margin HIV drugs by Gilead Sciences.
The PowerShares QQQ Trust (QQQ) invests 2.7% of its portfolio in Gilead Sciences.