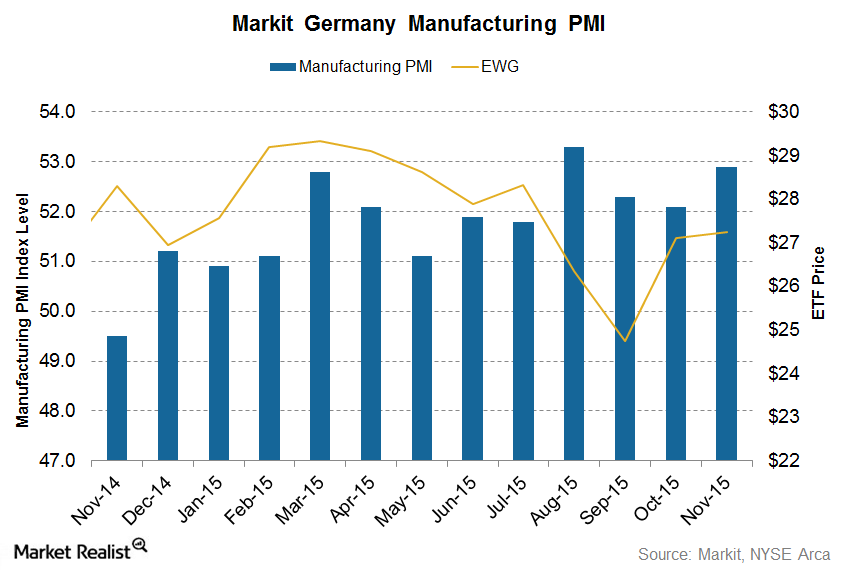 Germany's Manufacturing Activity Rose at a Modest Rate in November
Germany's final manufacturing PMI rose to 52.9 in November
With a final manufacturing reading above the flash estimate, the iShares MSCI Germany ETF (EWG) rose 0.07% as of December 1. According to Markit, Germany's manufacturing PMI (purchasing manufacturers' index) rose to 52.9 in November 2015, up 0.8 points from October's reading of 52.1 in October.
With modest growth, German ADRs (American depositary receipts) such as Daimler AG (DDAIF), SAP (SAP), and Deutsche Bank (DB) reported mixed price reactions on the exchange. Daimler AG and Volkswagen (VLKAY) were down 0.54% and 0.94%, respectively. SAP (SAP) and Deutsche Bank (DB) were up 0.91% and 1.9%, respectively, as of December 1. The Volkswagen emission scandal doesn't seem to have affected Germany's goods-producing sector.
Article continues below advertisement
Consumer goods and investment goods producers reported a strong growth
With the reading above the neutral level of 50 in November, manufacturing in Germany has stayed in expansion territory for the past 12 months. In November, consumer goods and investment goods producers reported strong growth, whereas intermediate goods manufacturers saw modest growth during the month.
Strongest increase in export orders
With the Euro staying weak, there was a sharp jump in export orders in November. Improved economic conditions has helped boost new business and export demand. The inflow of orders led to building capacity pressures with German manufacturers. The increased backlog in November is the second largest in 20 months. An increase in the order books resulted in increasing employment by German manufacturers.
Although their order books are increasing, manufacturers in Germany remain cautious about inventories. Raw materials and finished goods stocks stood at low levels in November. With declining energy and commodity prices, cost inflation continued to stay at lower levels. However, Germany is among the few nations that experienced rising selling prices in November.
In November, German manufacturing has attempted to recover lost ground. With improving order books and pricing power, German manufacturing appears to be poised to ramp up the recovery pace in Europe.
With Germany recovering, let's take a look at French manufacturing in the next article.