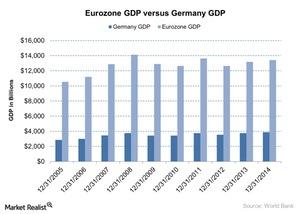 Germany Is the European Union's Powerhouse
By Sarah Sands

Jan. 4 2016, Updated 8:06 a.m. ET
Germany is the Eurozone's powerhouse
Germany (EWG) contributes around 28% of the Eurozone's total GDP (gross domestic product). France, Italy (EWI), and Spain contribute 21%, 17%, and 11%, respectively, towards the Eurozone's GDP. The Netherlands and Belgium only contribute 6% and 4% towards the Eurozone's GDP.
Article continues below advertisement
Why's Germany important?
Germany is the most resilient economy in the EU (European Union). Germany's influence isn't just limited to the economy. It also influences the EU's political affairs. Germany's important industries include auto manufacturing, IT services, and chemicals. Germany is the EU's most industrial power. It's also the largest and most important market in the EU (EZU). Germany has the highest population of around 82 million in the EU nations. In the Greek bailout package, Germany contributed the most among the European nations in 2015. It contributed around 57 billion euros.
Germany's exports
Germany was the third-largest exporter in the world in goods and services exported in 2014. Germany's exports account for 41% of the GDP. Its top exports are vehicles, machinery, pharmaceuticals, and electronic equipment. Germany's top companies are Volkswagen (VLKAY), Allianz, Daimler (DDAIF), Siemens (SIEGY), Bayer, SAP (SAP), and Deutsche Bank (DB).
The ECB (European Central Bank) took steps towards QE (quantitative easing). This helped to increase the exports in the region. Since Germany is a major export-oriented country in the EU, it took advantage of the QE program. Pumping money into the economy won't just raise the inflation. It will also weaken the currency. This will benefit exporters.
In the next part, we'll analyze the Eurozone's economic prospects in 2016.