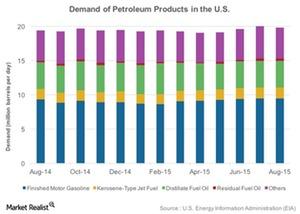 Why Is Gasoline a Key Element in the US Energy Market?
Demand for petroleum products
In this part, we will investigate the demand-supply scenario of petroleum products in the US. This has a direct impact on the integrated energy companies located in the country.
The demand has grown by 2.1% to 19.8 MMbpd (million barrels per days) from August 2014 to August 2015. The growth in demand is mainly a result of increasing gasoline consumption, which has risen by 1.7% to 9.5 MMbpd in August 2015. Lower gasoline prices at gas stations have propelled the demand for gasoline. Plus, the growing number of vehicles on the road adds to the existing demand.
Article continues below advertisement
Of the total demand for petroleum products in the US, the highest demand is for gasoline. Thus, the demand-side pull is giving support to gasoline prices in the country. This is proved by the fact that gasoline prices have fallen by 37% from August 2014 to August 2015 compared to the 57% fall in oil prices during the same period. This suggests that during this period, the gasoline crack has widened in the US, adding to the refiners' profitability.
In 2014, Exxon Mobil (XOM) produced ~1.5 MMbpd of motor gasoline in the US. Also, Chevron (CVX) and BP (BP) produced ~0.6 MMbpd and ~0.4 MMbpd, respectively, of gasoline in the country. In 2014, Royal Dutch Shell (RDS.A) produced around one MMbpd of gasoline from its worldwide refinery operations.
Demand for other petroleum products
The demand for jet fuel and distillate fuel remained flat at 1.6 MMbpd and 3.9 MMbpd, respectively, from August 2014 to August 2015. The increase in air passenger traffic and the rise in aircraft fleet size propels the demand for jet fuel. The manufacturing and industrial sectors are the primary growth drivers for distillate fuel in the US.
The iShares Global Energy ETF (IXC) has ~55% exposure to integrated oil and gas sector stocks. In the next part, we will look at a peer comparison of the integrated energy companies.