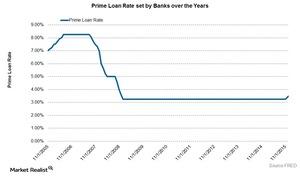 What Does the Future Hold for Mortgage REITs?
Important notes on mortgage REITs
The US markets and investors might have taken the Fed's interest rate hike positively, but it's important to know how investments in REITs will perform. In this concluding part of our series, we'll highlight a few important notes regarding the future outlook of mortgage REITs. The graph below represents the Bank Prime Loan Rate charged for the past ten years.
Article continues below advertisement
Future outlook of mortgage REITs
As the announcement of a Fed rate hike spread in the market, banks like Wells Fargo, JPMorgan Chase, and Bank of America started raising their interest rates. The base rates were lifted from 3.25% to 3.5%.
The increase in the base rate by banks may be small, but it could certainly impact mortgage cost, and buyers could refrain from buying properties due to high borrowing rates.
The markets reacted positively to the hike news as shares of homebuilders rallied. Beazer Homes USA (BZH) rose 5.7%, while Pulte Group (PHM) and D.R Horton (DHI) rose by 3.6% and 2.5%, respectively. However, the rate hike can impact the future share performance as buyers for lower-priced homes are more sensitive to changes in interest rates.
High mortgage rates can be a positive thing for mortgage REITs if the REITs are positively correlated with the interest rates, but this can have downsides as well. These investments can witness large fluctuations in the short term, and since 90% of the income earned is paid out as dividend to investors, it will be difficult to maintain the level of consistency.
Mortgage REITs like New Residential Investment (NRZ), Annaly Capital Management (NLY), American Capital Agency (AGNC), as well as mortgage ETF's like the iShares Mortgage Real Estate (REM) and the Market Vector Mortgage REIT Income ETF (MORT) aim to earn more. This can be achieved if the money they borrow to buy mortgages is at a lower rate.
Investors should be prepared for the possibility of the market making a move toward a higher interest rate in the near future. The main concern for the Fed is to reach its target goal of 2% inflation to maintain economic growth in coming days.