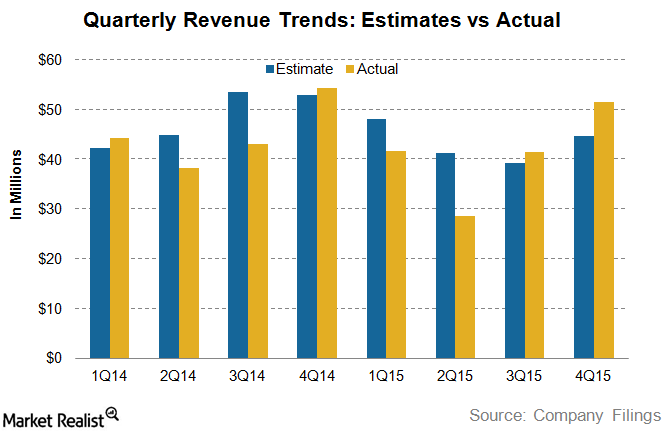 FuelCell Energy's Service Revenues Down, Product Revenues Up
By Vineet Kulkarni

Dec. 17 2015, Published 4:47 p.m. ET
Business segments
FuelCell Energy (FCEL) reported total revenues of $51.5 million for fiscal 4Q15 compared to $54.4 million for fiscal 4Q14. The fall resulted from a fall in revenues from service agreements and advanced technology contracts. However, this was still a positive surprise, as FCEL's revenues exceeded analysts' estimates.
Article continues below advertisement
Revenue breakdown
The main product from FCEL's portfolio is the direct fuel cell (or DFC). It's a device which produces ultra-clean power from chemical energy with the highest fuel conversion efficiency in the industry. FCEL's service agreements include a broad range of operational support contracts for up to 20 years regarding DFCs.
The product sales segment is the prime contributor to FuelCell's revenues. Product sales accounted for $43.9 million of FCEL's revenues in fiscal 4Q15 compared to $42.4 for the same period last year. Service agreements and license revenues stood at $5.5 million, falling from $6.7 million in 4Q14. Advanced technology contracts also fell from $5.3 million in fiscal 4Q14 to $2.1 million in fiscal 4Q15.
Revenue backlog
FuelCell Energy is expecting new deals soon, as it's in talks with some potential customers from New York, Connecticut, and California. Hence, its total backlog is increasing due to new assignments. Its total backlog as of October 31, 2015, was at $381.4 million compared to $338 million in fiscal 4Q14.
The company's backlog in advanced technology projects increased significantly during the quarter, to the highest in its history. FCEL's chief executive officer Chip Bottone considers this to be a positive sign and thinks that it's bringing the company closer to profitability.
Strategic partners
FuelCell Energy also benefits from its strategic partnerships with leading utility (XLU) (IDU) companies NRG Energy (NRG) and POSCO Energy, a subsidiary of South Korean Steel giant POSCO (PKX). FCEL's relationship with NRG encompasses selling electricity to its customers, while POSCO is the licensed manufacturer of DFC in the Asian market.