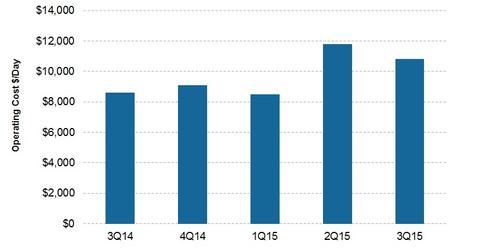 Frontline: What to Expect from the Cost Side in 4Q15
By Sue Goodridge

Updated
Daily operating costs
Frontline's daily operating costs for 3Q15 were $10,800 compared to $11,800 in the previous quarter and $10,400 in 3Q14. For crude oil (DBO) companies such as Teekay Tankers (TNK), Nordic American Tankers (NAT), Tsakos Energy Navigation (TNP), DHT Holdings (DHT), and Euronav (EURN), operating costs include costs associated with running a vessel, including crew costs, vessel supplies, repairs and maintenance, dry docking, lubricating oils, and insurance.
Article continues below advertisement
What improved the costs?
The main cost element that causes operating costs to fluctuate every quarter is dry docking expenses.
Frontline dry docked two vessels in the third quarter compared to four in the second quarter.
Fewer dry docked vessels reduced dry docking expenses by $2.2 million from the second quarter's $5.9 million expense.
Fourth quarter dry docking
Frontline estimates that two vessels will be dry docked in the fourth quarter, which is the same as the third quarter dry dockings. With this, we can expect dry docking expenses and thus daily operating expenses to be similar to 3Q15 expenses.
Article continues below advertisement
Expectations: Cash break-even costs
Frontline calculates its cash break-even costs by including bareboat hire and installment charges, interest on loans, operating expenses, and administrative expenses.
The company estimates the cash break-even costs for VLCCs (very large crude carriers) for the remainder of the year to be $27,000. It expects the cash break-even costs for Suezmax vessels to be $22,100.
As we've seen in the previous article, current tanker rates are far above these cash break-even costs, which will increase the company's profit margins.
Merger effect
Frontline 2012's (FRNT) fleet is relatively young. The merger of Frontline (FRO) and Frontline 2012 will reduce the average fleet age of the Frontline fleet. A younger fleet means lower repair and maintenance costs and lower insurance costs. This should have a positive impact on the company's daily ship operating costs per vessel.