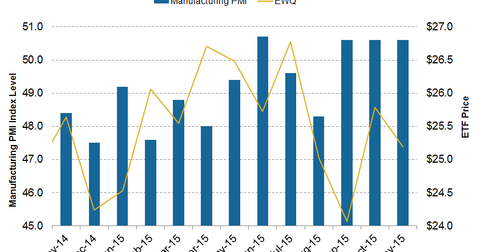 France's Manufacturing Activity Remained Unchanged in November
By Lara Sheldon

Updated
France's final manufacturing PMI stood at 50.6 in November
With a final manufacturing PMI reading for November above the neutral level, the iShares MSCI France ETF (EWQ) rose 0.36% as of December 1.
According to Markit, the final manufacturing PMI (purchasing manufacturers' index) for France remained unchanged at 50.6 in November for the third straight month. TOTAL (TOT), CGG (CGG), Criteo SA (CRTO), and Alcatel-Lucent (ALU) were up by 0.36%, 2.1%, 0.42%, and 2.3%, respectively, as of December 1. On the other hand, Sanofi (SNY) and Sequans Communications (SQNS) were down by 0.38% and 0.59%, respectively, as of December 1.
Article continues below advertisement
The rate of job cuts eases
In November, new orders were broadly stagnated, with a sharp drop in export orders that has persisted since April 2015. With a low level of new orders, the backlog of orders fell and remained weak in November. Employment contracted further with an ongoing lack of demand. However, the rate of job cuts was marginally slower in November.
With a lower inflow of orders, manufacturers were cautious about inventories. Raw material inventories and finished goods stocks remained at low levels in November. Purchasing activity also fell fractionally during the month.
With declining crude and commodity prices, cost inflation remained at lower levels. A low inflow of new orders forced French manufacturers to keep selling prices lower in November.
Although French manufacturing activity was not directly impacted by the Paris terror attack on November 13, consumer sentiment in the region has been weak, resulting in lower rebound in demand. We may see muted growth continue in France in the near future.
After examining France's unchanged PMI, let's see how Italy's manufacturing sector is contributing toward growth in the Eurozone.