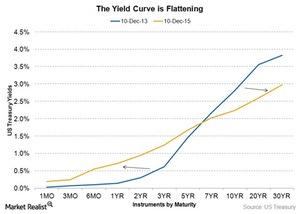 Statement Suggests Gradual Rise in the Federal Funds Rate
By Surbhi Jain

Nov. 20 2020, Updated 12:21 p.m. ET
Are future rate hikes in the cards?
With the answer to the "Will the Fed hike rates in December?" out on Wall Street, investors seem more concerned now about another question—"By how much and how fast will the Fed likely raise the rates more in coming months?" The Fed raised the target range for the federal funds rate from 0%–0.25% by 25 basis points. Now, the key interest rate in the US (SPY) (IWM) (QQQ) will be 0.25%–0.50%.
The FOMC's (Federal Open Market Committee) December 16 statement said that "In determining the timing and size of future adjustments to the target range for the federal funds rate, the Committee will assess realized and expected economic conditions relative to its objectives of maximum employment and 2 percent inflation. This assessment will take into account a wide range of information, including measures of labor market conditions, indicators of inflation pressures and inflation expectations, and readings on financial and international developments."
Article continues below advertisement
Gradual rise in the federal funds rate
Fed Chair Janet Yellen emphasized, in her previous interviews and statements, a "gradual" approach to the Fed's tightening decision. She stated that "economic conditions will evolve in a manner that will warrant only gradual increases in the federal funds rate." The yield on short-term Treasury bonds (SHY) will see a direct and positive impact from the rate increases. However, the impact on long-term Treasury (TLT) yields may not be that immediate because the inflationary pressures remain low. As a result, we could see the Treasury yield curve flatten more. There's also the looming risk of an inversion.
So, while you might expect more increases in the interest rates, the timing of more rate hikes should be at a slow pace. Yellen already rejected the idea of a 2004–2006 scenario comeback. The Fed raised the interest rates by 25 basis points at 17 consecutive meetings.
Market opinion remains divided
Market opinion seems divided. There are economists who hold the opinion that the Fed could raise the key rate about three to four times over the course of the next year. Others think that after December, we might not see another rate hike until June 2016.
The markets also heard Jack Welch, former CEO and chairman of General Electric (GE), say that "It would have been better to go last time actually. Conditions were better. The economy is not any stronger. The commodities have gone further down." Welch thinks that the Fed should have hiked the rates in September.
To stay updated on the latest financial events from the US (SPY) (IVV) and the world, visit Market Realist's Global Equity ETFs page.