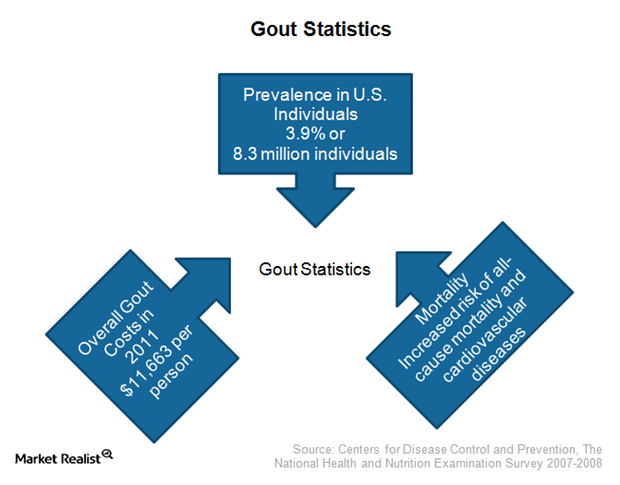 FDA Sets December 29 as Lesinurad's PDUFA Date
By Margaret Patrick

Dec. 7 2015, Published 5:11 p.m. ET
PDUFA date
The FDA (U.S. Food and Drug Administration) has scheduled the Prescription Drug User Fee Act (or PDUFA) date for AstraZeneca's (AZN) lesinurad for December 29, 2015. Lesinurad is a drug indicated for gout.
A PDUFA date is the deadline on which the FDA announces its decision for a new drug. This date is considered important for the innovator pharmaceutical company, as a positive FDA decision implies access to the United States, the largest pharmaceutical market in the world.
Article continues below advertisement
In this scenario, the innovator company's share price rises due to expectations of an increase in future revenues. However, if the FDA rejects the drug application or asks for additional clinical data, it could result in increased uncertainty for the new candidate drug. The resulting negative investor sentiment results in a fall in the company's share price.
Market opportunity
The above diagram shows the prevalence of gout in the United States as well as mortality and costs associated with the disease. Although people don't die from gout, the disease leads to damage to bones, joints, and kidneys as well as cardiovascular diseases.
About 8.3 million people suffer from gout in the United States. If lesinurad is approved, it could earn substantial revenues for AstraZeneca. According to JPMorgan Chase analysts, lesinurad is expected to earn peak sales worth $1 billion. Peak sales is an estimation of the maximum revenues a drug can earn in its life cycle.
Similar to AstraZeneca, peers Regeneron Pharmaceuticals (REGN), Novartis (NVS), and Celgene (CELG) are also developing drugs to treat gout.
Investors can participate in the upside potential of lesinurad and still avoid excessive company-specific risks by investing in the Vanguard FTSE All-World ex-US ETF (VEU). AstraZeneca accounts for 0.11% of VEU's total holdings.