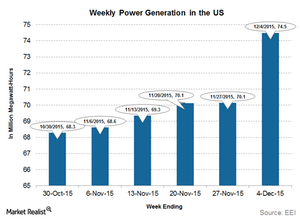 Falling Temperatures Give Energy to Coal Producers and Utilities
US electricity generation down from last year
The EEI (Edison Electric Institute) publishes electricity generation data weekly. The current report for the week that ended December 4, 2015, shows that US electricity generation scaled to 74.5 million MWh (megawatt-hours) that week.
However, the week's electricity generation was marginally lower than the 75 million MWh reported during the same week in 2014.
Article continues below advertisement
Why is this indicator important?
More than 90% of the coal produced in the United States is used for the generation of electricity, meaning that the power utility segment is coal's largest end user. As a result, coal and utility investors watch electricity generation trends. Because electricity storage is expensive, most produced electricity is consumed right away. As a result, electricity generation mirrors consumption.
What does this mean for coal producers?
Thermal coal is used mainly for the generation of electricity. Everything else being equal, a rise in electricity generation is generally positive for coal producers (KOL) such as Peabody Energy Corporation (BTU) and Cloud Peak Energy (CLD). However, as we discussed previously in this series, coal has been losing market share to natural gas in the current low natural gas price environment.
Weekly generation levels are subject to seasonal deviations. The impact on utilities (XLU) such as NextEra Energy (NEE) and Southern Company (SO) depends on the regional breakdown of electricity generation. Continue to the next part of this series for a closer look at what's happening across the US with electricity generation.