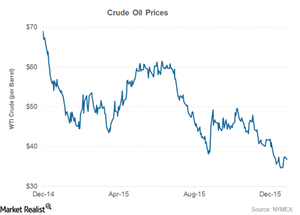 Falling Energy Prices May Put Freeport-McMoRan's Plans in Limbo
By Mohit Oberoi, CFA

Updated
Falling energy prices
Freeport-McMoRan (FCX) is looking for strategic alternatives for its energy business. However, falling energy prices and rapidly deteriorating sentiment in the energy industry could spoil the company's strategic plans. WTI (West Texas Intermediate) crude oil prices are trading near an 11-year low. The graph below shows the recent movement in WTI crude oil prices.
Article continues below advertisement
Strategic alternatives
Freeport-McMoRan (FCX) is evaluating several alternatives, including the following:
FCX may opt for an IPO (initial public offering) of minority interest.
The company is considering a spin-off of the energy business into a new entity. Earlier this year, BHP Billiton (BHP) spun off its noncore assets into a new company, South32 (SOUHY). Alcoa (AA) has also announced that it will split into two companies next year.
FCX is considering joint venture and third-party funding arrangements, which would entail getting a strategic partner for the energy (XOP) business.
FCX may implement further spending cuts, despite having already cut its capital expenditure in the energy business.
Plans derailed?
There isn't exactly a long queue of people looking at energy assets. Even if Freeport-McMoRan (FCX) is able to arrange third-party funding, the buyer could value FCX's energy assets at distressed prices.
The success of an energy IPO under the current market conditions seems quite improbable. Not many investors would be willing to bet their money on a pure-play energy company, given the bleak outlook for energy prices.
A spin-off would open up Pandora's box on how to split Freeport-McMoRan's ~$20 billion debt. The energy business itself might not be able to sustain much of FCX's current debt. Furthermore, placing too much debt on the copper business's balance sheet might negatively impact the copper business in the long term.
In its 3Q15 earnings call, FCX gave a six-month timeframe for making a decision on energy assets. We still have four months remaining in that timeframe. However, it won't be surprising if the company extends the timeline, given the current depressed energy prices.
Freeport-McMoRan's management and Carl Icahn may have to come up with something extraordinary to find the right path for the company's energy business. We could get some clues in the company's 4Q15 earnings call, which is scheduled for the end of January 2016.
You can follow the key updates from Freeport-McMoRan's 4Q15 earnings call by visiting our Copper page.