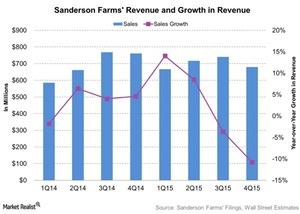 How Export Volume Impacted Sanderson Farms' Fiscal 4Q15 Revenue
By Sushree Mohanty

Dec. 4 2020, Updated 10:53 a.m. ET
Sales fell 10%
Sanderson Farms (SAFM) delivered net sales of $679 million, a decrease of 10.7% compared to net sales of $760.9 million in fiscal 4Q14. Revenues also missed the estimates by 3%. For fiscal 2015, the reported net sales were $2.8 billion, an increase of 1% compared to $2.77 billion for fiscal 2014. Sales for the quarter were hurt by weak product prices and export volumes. Total industry export volume through October was lower by 15% compared to the same period in fiscal 2014. The factors that negatively impacted export demand were the strong US dollar, lower oil prices, and avian influenza-related bans.
Article continues below advertisement
Prices of affected products
In its fiscal 4Q15 press release, management mentioned that overall market prices for poultry products were significantly lower in this quarter compared to the same quarter a year ago. The decline in revenue for the quarter reflects a 24.5% fall in average sales price for poultry products compared to fiscal 4Q14. The decline was offset by a 16.1% increase in poultry pounds sold. All of the below-mentioned comparisons are to fiscal 4Q14:
The average Georgia dock price for whole chicken was ~1.2% higher.
Boneless breast meat prices were 29.5% lower.
Jumbo wing prices averaged $1.48 per pound, down by 1.3%.
The average market price for bulk leg quarters decreased ~53.3%.
The prices for the company's primary poultry feed ingredients like corn increased slightly by 0.4%, and soybean meal fell by 21.2%.
For fiscal 2015, the average Georgia dock prices for whole chicken were 5.6% higher. All comparisons are to fiscal 2014. The Georgia dock whole bird price remained in record territory during fiscal 2015, reflecting strong demand for the company's retail chill pack product during this fiscal year. Boneless prices were 15.4% lower in fiscal 2015. Jumbo wing prices averaged $1.52 per pound during the fiscal year, up 26.9%. The average market price for bulk leg quarters decreased ~31.5% for fiscal 2015. Lower dark meat prices mark the substantial fall in industry export volumes during the second half of fiscal 2015. The company paid $145 million less for feed grains in fiscal 2015 compared to fiscal 2014.
Peer comparison
The company's peers Hormel Foods (HRL), Tyson Foods (TSN), and Pilgrim's Pride (PPC) reported revenue of $2.4 billion, $10.5 billion, and $2.1 billion, respectively, for their most recently reported quarter. Pilgrim's Pride accounts for 3.7% and 1.1% of the portfolio holdings of the First Trust Consumer Staples Alpha DEX Fund (FXG) and the Advisor Shares TrimTabs Float Shrink ETF (TTFS).