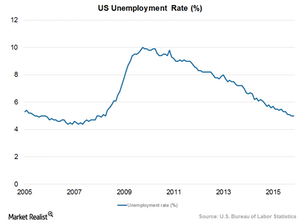 Examining Potential Federal Reserve Rate Hikes
By Robert Karr

Aug. 18 2020, Updated 5:24 a.m. ET
Basis points
The majority of traders and economists expect a modest rate hike of 25 basis points from the Fed in today's meeting. The hike is largely priced in by the market, both domestically as well globally. The main reason for a lower rate hike is an unstable global economy and deflationary risks from declining commodity prices. However, considering the improved labor market, inflation below the Fed's target of 2%, as well as a growing real estate and domestic economy, there is a lower probability of a rate hike of 50 basis points.
Article continues below advertisement
Future rate hikes?
The bigger question is how many rate hikes we'll see in upcoming quarters. In September, the Fed indicated that there could be four rate hikes in 2016 with target interest rates of 1.25% to 1.50%. However, the market has priced in only two rate hikes as indicated in federal funds futures. Hence, traders and investors are expecting target interest rate of 0.75% to 1% by the end of 2016.
We can expect lower estimates from the Fed in upcoming quarters if growth is lower than estimated growth, not to mention a weakening of labor markets. The Fed has clearly indicated in its earlier policy release that interest rate hikes would largely depend on economic data. So, examining economic data is the best indicator for estimating future rate hikes.
US Markets (SPY) rose by 2% over the past one year and fell by 0.7% in 2015. Also, US banks, including JPMorgan Chase (JPM), Wells Fargo (WFC), BB&T (BBT), and Suntrust Bank (STI), have returned positively on the expectation of improved profitability resulting from interest rate hikes.