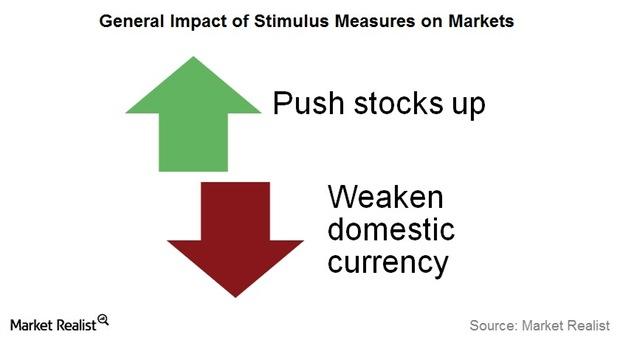 European Central Bank's Monetary Policy: Why the Disappointment?
By David Ashworth

Dec. 7 2015, Published 6:48 p.m. ET
What usually happens?
Stimulus measures, whether monetary or fiscal, aim to prop up a slowing or stagnant economy. Generally, when stimulus measures are announced, stocks respond positively due to hopes for higher economic growth, driven by more consumption and lending, which is good for businesses.
However, recently, financial markets seemed to be disappointed with such measures. Stocks and ADRs (American depositary receipts) of companies such as Unilever (UL), Fresenius Medical Care (FMS), Sanofi (SNY), and Criteo (CRTO) fell, along with Europe-focused mutual funds such as the Henderson European Focus – Class A (HFEAX).
When monetary policy is eased, domestic currency can be expected to weaken. However, the euro, which should theoretically have fallen, actually strengthened against the dollar.
Article continues below advertisement
Why did this happen?
Stocks and the euro reacted to the ECB's (European Central Bank) monetary policy easing this way because more had been expected from Europe's central bank. Some market participants had desired a bigger reduction in the deposit rate, while others expected the bank to increase the quantum of its monthly bond buying, which remained unchanged at 60 billion euros.
At the press conference following the monetary policy announcement, Mario Draghi, the president of the ECB, said that the APP (asset purchase program) is flexible. It allows the central bank to adjust its duration and quantum of purchases and design to suit the current situation. The bank's assessment, at this time, showed that increasing the duration and introducing principal reinvestments was the most appropriate action that could have been taken.
On the deposit rate cut, he said that central bankers have observed that the deposit rate improves the transmission of monetary policy to the financial system. He said that the rate has become the driver of monetary policy in Europe as all short-term interest rates follow this rate. Most central bankers saw the reduction of ten basis points as enough at this time. We'll explore the reasoning of the ECB's December policy actions in detail in the next article.