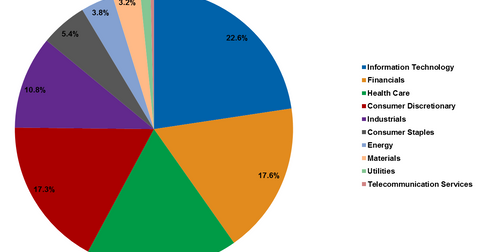 The Essentials of the Hartford Capital Appreciation Fund
By Seth Bennett

Updated
The Hartford Capital Appreciation Fund
The Hartford Capital Appreciation A Fund (ITHAX) invests in stocks (BMY), (AGN), (MRK), (GOOG) that have the potential for capital appreciation. The fund invests at least 65% of its net assets in medium and large companies and invests the remaining 35% in securities of foreign issuers, including companies with primary business activity in emerging markets.
Article continues below advertisement
Sectoral allocation
The fund was launched on July 22, 1996, and its total assets under management were $10.7 billion as of October 2015. The ITHAX was invested in 386 securities as of October 2015.
As of that date, the ITHAX's top invested sector is information technology, as it makes up 22.6% of net assets. Both the healthcare sector and financials make up 35.2% of the fund's portfolio. Consumer discretionary and industrials round off the fund's top invested sectors.
Top holdings, fees, and minimums
As of October 2015, the top holdings of the fund included Bristol Myers Squibb (BMY), Merck (MRK), and Allergan (AGN). The three form a combined 10% of the fund's portfolio.
To invest in the ITHAX, you need a minimum initial investment of $2,000. The maximum sales charge that is imposed at the time of purchase is 5.5% of the offering price. The fund has an expense ratio of 1.1% of total assets.
In the next article, we'll look more closely at the Oppenheimer Main Street Fund.