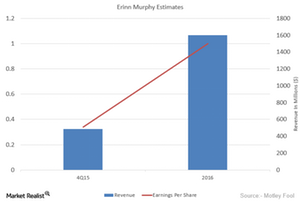 What Did Erinn Murphy Say about GoPro?
GoPro is selling on Groupon
GoPro (GPRO) cameras started selling on discount and flash sale websites like Groupon, Zulily, and RueLaLa. This caused Piper Jaffray analyst Erinn Murphy to cut GoPro's price target to $15. For fiscal 3Q15, GoPro ended up with a huge inventory on its balance sheet. It continued to rise quarter-over-quarter. It had $290 million in fiscal 3Q15—compared to $117 million in fiscal 3Q14.
The reason for the increased inventory could be a buildup of future sales. Since last year, GoPro came out with three new models. However, some of the inventory remained unplanned, as sluggish sales and rising inventory go hand-in-hand. According to Murphy, this leads GoPro to sell its products at discounts. Murphy also said that selling products below average prices will lower GoPro's revenue. It could also impact the gross margin.
Article continues below advertisement
Will it impact its margin?
However, Murphy's estimates could be wrong. Currently, HERO4 is selling at $420.0 on Groupon. It's $80 below its original price. Since HERO4 launched in 2014 and its components and assembly kept on falling, it could easily be offset by its discounted price. It will barely make an impact on its margin. This is also true for the iPhone. Its price fell by $100 each year. However, it still manage to float at a high margin.
Murphy estimates that the weak trend will also continue for the next quarter. She expects GoPro to generate revenue of $488.1 million and EPS (earnings per share) of $0.34 in 4Q15. In contrast, she expects revenue of 1.6 billion and EPS of $1.0 in 2016. These figures are below GoPro's recent guidance.
The iShares Russell 1000 Growth ETF (IWF) includes 650 stocks. Apple (AAPL), Microsoft (MSFT), Amazon (AMZN), and GoPro account for 6.2%, 2.4%, 2.4%, and 0.02% of IWF, respectively.