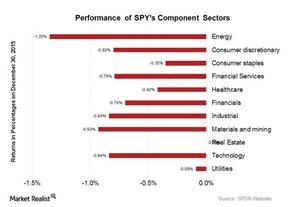 The Energy and Materials Sectors Landed at the Bottom of SPY
Sector performances
The following graph illustrates the percentage changes in the performances of the component sectors of the SPDR S&P 500 ETF (SPY) on Wednesday, December 30, 2015. As we can see the graph, all the sectors turned red on Wednesday after the oil prices took a deep dive earlier in the day.
Article continues below advertisement
Energy sector
The energy sector suffered the biggest fall of the day. According to the EIA (U.S. Energy Information Administration), the crude oil inventory rose 2.6 million barrels for the week ended December 25 to a total of 487.4 million. Both gasoline and distillates showed inventory buildups. The same week also saw a rise in the crude oil imports in the United States. On the other hand, Saudi Arabia pumped 10.1 million barrels a day in November as against 9.58 million barrels in the same period last year as reported by OPEC[1. Organization of the Petroleum Exporting Countries]. The global glut in the supply of oil continued as big suppliers of crude oil—Russia and Saudi Arabia—continued to pump large volumes of crude. In a bid to defend market share, the energy minister of Saudi Arabia reiterated on Wednesday that the country would not change its policy of unrestrained output.
Material sector
A fall in the currencies of commodity exporting countries with respect to the US dollar has adversely impacted the material sector. All the base metal and precious metal prices slid on Wednesday, December 30, and so did the miners' stocks and their respective ETFs. Therefore, the stocks of Freeport-McMoRan (FCX), Alcoa (AA), Newmont Mining (NEM), and Nucor (NUE) fell 2.9%, 1.7%, 1.4%, and 0.4%, respectively, on December 30, 2015.
Let's look at the key stocks of SPY on the day.