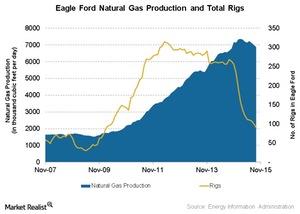 Eagle Ford Oil and Gas Production Was Down Again in November
By Alex Chamberlin

Updated
Eagle Ford natural gas production
The EIA (U.S. Energy Information Administration) released its Drilling Productivity Report on December 7, 2015. The EIA estimates that natural gas production at the Eagle Ford Shale was 6.7 Bcf (billion cubic feet) per day in November 2015. That's ~2% below October's production level and 1% lower than production a year ago. Month-over-month, the November production fall was Eagle Ford's fifth in a row.
According to the EIA, the Eagle Ford Shale's natural gas production rose 308% in the past eight years. In November 2015, the region produced 6.7 Bcf per day compared to 1.7 Bcf per day in November 2007.
Article continues below advertisement
Eagle Ford crude oil production
The EIA estimates that the Eagle Ford Shale's crude oil production amounted to ~1.4 MMbpd (million barrels per day) in November 2015. This is 4% lower than October's production total. Compared to a year ago, crude oil production was 11% lower in this region.
Shale oil production at the Eagle Ford Shale rose from ~54,000 bpd (barrels per day) in November 2007 to ~1.4 MMbpd in November 2015. That's a huge 24-fold rise in eight years.
Rigs and monthly additions from one average rig
The number of rigs working at the Eagle Ford Shale rose from 90 in October to 93 in November. A year ago, there were 264 drilling rigs in the region. That said, there's been a shift away from natural gas–directed rigs to liquids-directed rigs in the Eagle Ford Shale over the last few years. Natural gas rigs accounted for 36% of all Eagle Ford rigs in November 2011. Now they're at 15%.
The EIA calculates that the average Eagle Ford Shale rig added production of ~2.3 MMcf (million cubic feet) in November 2015, a 104% rise since November 2007. In the 12 months leading up to November 2015, the production addition per rig rose 30%. Higher production per rig benefits natural gas producers.
What it means for OFS companies
The falling rig count and Eagle Ford oil and gas production could negatively affect oilfield service (or OFS) companies' revenues and profits. These companies provide various onshore and offshore drilling services and technologies. They include National Oilwell Varco (NOV), Oceaneering International (OII), Dresser-Rand Group (DRC), and Weatherford International (WFT).
OFS companies may continue to lose revenues and profits if drilling activities fall. National Oilwell Varco forms 0.07% of the SPDR S&P 500 ETF (SPY). For investors that would like more energy exposure, the energy sector makes up 6.9% of SPY.
In the next part of this series, we'll look at production at the Utica Shale.