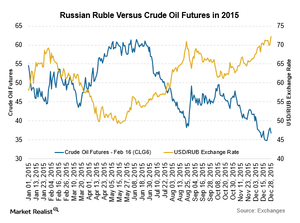 A Depressed Outlook for the Russian Ruble in 2016
Negative sentiment surrounding the ruble
The Russian ruble dropped to an all-time low against the US dollar towards the end of 2015 as a result of the inaction from the Russian central bank to cut policy rates considering high inflation levels leading to sluggish economic growth. Also, the decision by OPEC (Organization of the Petroleum Exporting Countries) to not impose limits on crude production levels weighed negatively on global oil prices. The Russian ruble exhibits a high positive correlation with crude prices as Russia exports a large quantity of crude oil and is dependent on export revenues connected to crude prices.
Article continues below advertisement
The recent geopolitical crisis in the Middle East and the downing of the Russian warplane by Turkey have hurt investor confidence in the country. Significant capital outflows arising from the negative sentiment have resulted due to the interest rate hike by the US Federal Reserve. Considering soft labor market conditions and nominal wage stagflation, retail sales and consumer spending are expected to remain depressed going into 2016. Thus, a further fall in the ruble can be expected in the coming year.
Challenges the Russian economy will see in 2016
The GDP (gross domestic product) for the third quarter showed a contraction of 4.1% in the economy. It was plagued with low oil revenue and remarkably high inflation levels. The recovery is expected to be slow due to Western sanctions and sluggish growth in commodity prices, which have hindered gains in the ruble. This is following the economic slowdown in China and other emerging nations.
Crude oil futures ended lower by more than 30% at the end of 2015, putting pressure on Russian export revenues. Higher inflation levels have left less room for the Russian central bank to ease its monetary policy. Also, Russia has been trying to bridge its budget deficit, which warrants further depreciation in the ruble to increase revenue numbers.
Impact on the market
Now we'll look at the trajectory of ETFs through the year from January 2, 2015, to December 28. The VanEck Vectors Russia ETF (RSX) provides exposure to companies that are publicly traded and domiciled in Russia. It gained by 0.54%. The Direxion Daily Russia Bull 3X Shares ETF (RUSL) fell by 31.1%.
Looking at the trend this year for Russian ADRs (American depositary receipts), Mobile TeleSystems (MBT) fell by 13.2%. On the other hand, the energy-related ADR Canadian Natural Resources (CNQ) fell by 27.0%. Also, Baytex Energy (BTE) lost significant value this year with an 80.6% fall.